Capacity "essentially maxed out": Market conditions tilted more heavily in carriers' favor in December, according to FTR's monthly Trucking Conditions Index, which signals that capacity "is essentially maxed out," the firm said in a press release. A strong freight market, inclement weather and widespread ELD adoption have constrained industry capacity, resulting in the strongest freight rates in years, FTR says.
"It's no surprise to the industry that the end of 2017 and the beginning of 2018 have been good for carriers," says Jonathan Starks, Chief Operating Officer for FTR. "We are seeing robust orders for trucks and trailers, serious recruitment drives, and the type of rate increases which make these expenditures feasible. In terms of the overall economy and freight demand, we are looking at strong potential for further upside possibilities for carriers."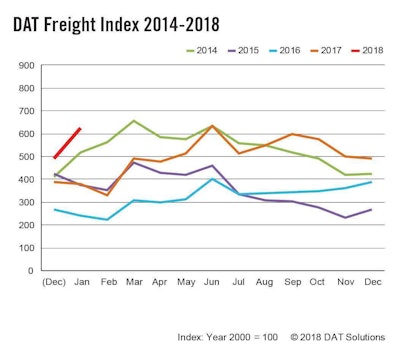 Spot market demand, rates humming: Freight demand on the spot market continues to surge as a result of the industry's record-tight capacity, according to DAT Solutions, who says rates set records in January.
Available loads on DAT's board climbed 28 percent from December and 65 percent from last January, the company says, spurring major rate increases from the year prior. Flatbed rates averaged $2.39 a mile in January, according to DAT — up 7 cents from the same month last year.
Van rates, $2.26 a mile, were up 59 cents from the same month in 2017. Reefer rates, at $2.66 a mile, were up a whopping 71 cents a mile from January 2017.