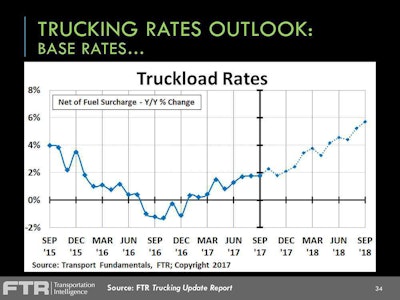 Freight rates are around 2 percent higher than this time last year, should be up 6 percent by fall of 2018, and could increase as much as 10 percent, according to Eric Starks, CEO and chairman of FTR Associates. "But I'm not quite ready to go there, yet," he said, during a presentation at the CCJ Solutions Summit in Palm Springs, Calif., this week.
Starks' cautious optimism on rates is driven by tightening capacity and strong freight demand fueled by a mostly positive economic outlook. "We are finally in uncharted territory," he said. "We are going to haul more freight than we ever have in the U.S. market." Starks points to 2006 as the year for peak freight. "Eleven years later we are again hitting peak levels," he said.
That strong freight outlook is driven by a strengthening manufacturing sector, a drop in the inventory-to-sales ratio, strong and growing retail sales and record levels of imports. The automotive market got a boost from the recent hurricanes in Texas and Florida, with people replacing flooded cars.
Also, housing starts have been slowly increasing, Starks said, adding additional freight to the system. Underbuilding, by as much as 15 percent to 20 percent, should continue to drive upward pressure there, he said.
Nowhere is the strengthening freight picture more evident than in the spot market. FTR's Market Demand Index, which uses virtually real-time Truckstop.com data to compare loads posted versus available trucks, is more than double this point last year.
"The number of loads started to go up noticeably in the beginning of the summer," Starks said. "Demand is up. Supply is down. It's a perfect storm, so the price goes up."
Spot market base rates, excluding fuel, are up 22 percent over last year, he said, noting that there is usually a six- to nine-month lag in pricing moving from the spot to contract markets.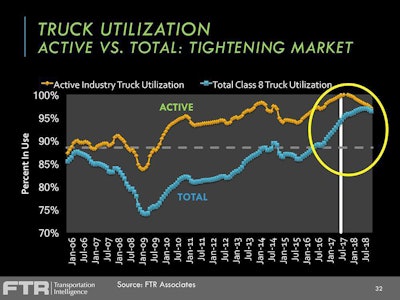 Ultimately, capacity is what drives the market, Starks said. "What's going on with freight and how productive are you at moving it?" he asked. FTR tracks both active (trucks with drivers), and total (trucks parked or in for maintenance) utilization. When both are in the 90 percent range, rate pressure increases, Starks said. Both are currently over 95 percent, with active utilization at 100 percent, suggesting more equipment needs to be added into the marketplace.
Further complicating the capacity picture is the looming electronic logging device mandate, which FTR estimates will reduce productivity 3 percent to 4 percent over the next two to three quarters. With the Dec. 18 deadline for compliance looming, Starks encourages carriers holding out to get on board.
"If you are a shipper, are you saying no big deal? Most are saying, you better be compliant." If you are a carrier that is only now complying, you could face challenges in meeting the full demands of your shippers, he said.
Starks highlighted five areas carriers should have on their radar:
Autonomous vehicles. How the industry will best utilize fully autonomous vehicles remains to be seen, but Starks advised carriers to take this change seriously. If it can be proven that it will decrease accidents and lead to a better productivity, that changes the equation, he said.
Artificial intelligence. Within the next five years, Starks guarantees fleets will be using AI within their backend systems. As an example, he cites a completely hands-off load-matching system.
Omnichannel. The omnichannel business model marries brick and mortar, inventory systems and transportation to tailor how a product is purchased and delivered to meet the needs of consumers' delivery expectations. "This is already happening in your backend and you don't even realize it," Starks said.
Blockchain. Poised to transform the entire business environment, the blockchain approach to logistics provides transparency throughout the supply chain to make it easier to identify and fix problems.
Additive manufacturing (3D printing). Before long, a UPS truck might be equipped with a 3D printer, enabling it to fulfill your need for a part right from the truck. "This is not pie in sky," Starks said. Such capabilities change our expectations of product availability and delivery. It also will change what fleets haul.