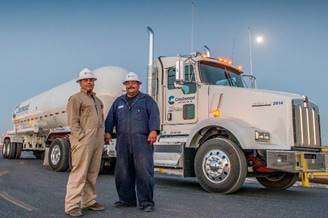 PeopleNet, a Trimble Company and leading provider of fleet mobility technology, announced that Crestwood Transportation will install PeopleNet Mobile Gateway (PMG) paired with PeopleNet ConnectedTablets, and in-cab ticket printing capabilities in its fleet.
Crestwood selected the PeopleNet solutions to improve the in-cab experience for drivers by integrating with existing software from PeopleNet sister company, Trimble's TMW business, for a streamlined interface to access dispatch, scanning, and both crude and tanker workflow applications, ultimately creating efficiencies for the back office.
"We are pleased to partner with Crestwood to optimize operations for both drivers and support staff," said Bryan Coyne, general manager, Trimble Transportation Mobility, North America. "By implementing PeopleNet technologies to create efficiencies, Crestwood will be able to improve their drivers' experience, streamline operations and reduce overall costs."
Crestwood Transportation is a nationwide fleet that supports Crestwood Equity Partners LP's growing natural gas liquids (NGL) marketing and logistics business. With more than a quarter century of operating experience in transporting NGLs and bulk commodities, Crestwood Transportation distributes crude oil, condensate, water and NGL products.
Crestwood Transportation is a recipient of a 2017 Innovator of the Year Award hosted by PeopleNet and TMW at the companies' annual in.sight user conference + expo, for its use of TMW software to provide increased visibility to key performance indicators (KPIs) promoting efficiency and enabling Crestwood to reduce variable costs in fuel, labor and other operational expenses.
"We are excited to be extending our partnership with Trimble's transportation businesses through the implementation of PeopleNet," said Gary Waller, vice president of transportation at Crestwood. "Providing best-in-class service while maintaining safe, compliant operations is a top priority at Crestwood, and the PeopleNet system offers a streamlined solution that will translate to a more efficient, cost-effective, compliant and safe service for both our customers and our drivers."