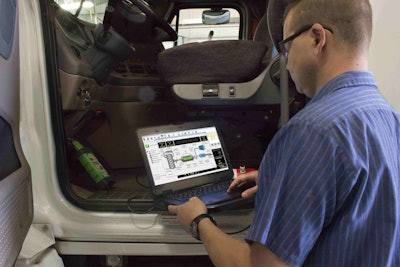 Noregon has launched its JPRO Certification program, enabling technicians to increase their skillset and earn official certification for JPRO.
The certification program offers seven content modules, with each module focusing on a major aspect of JPRO's functionality. Each module includes optional quizzes to test the user's knowledge and prepare them for the fifty-question multiple-choice final exam. Users scoring a 70 percent or better on the final exam become JPRO certified and earn a diploma, as well as patches to sew onto work uniforms.
Shane Gilliam, Noregon's vice president of sales, says by offering the certification program, technicians are able to learn the ins and outs of the software and standout to employers by becoming officially certified.
"For the technician it is a great way to not only build their skillset, but also enhance their resume and differentiate themselves by showcasing their proficiency with the premium diagnostic and repair solution.," adds Noregon's JPRO Product Manager and former technician, Jason Hedman. "Technicians who use JPRO efficiently are going to perform repairs faster and more accurately than their counterparts, which directly relates to increased uptime for fleets and faster bay turn for repair facilities."
The certification courses are officially available for the public today, but Noregon notes some major fleet customers already utilized the courses to certify their technicians.