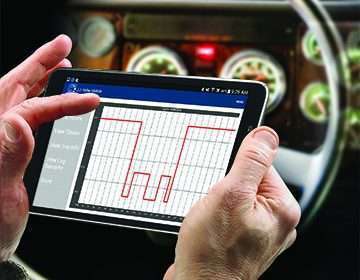 To comply with the electronic logging device (ELD) rule, some fleets use ELD products from multiple providers. Different products help them meet the needs of company drivers and owner-operators, for example.
Some fleets may also use one ELD product for long-distance operations and a different product, or even paper logs and time sheets, for local routes.
Using multiple products can be helpful though it may complicate the process of managing information from different sources.
One option for keeping up with the influx of data and records from multiple ELD systems—or a single system — is a third-party managed service. Using a combination of technology, people and processes, third party services can give fleets a more efficient workflow for compliance by capturing hours-of-service data from different sources, and auditing it for accuracy against supporting documents to identify exceptions.
J.J. Keller, for instance, offers such a managed service called DataSense. The companies using the service are able to consolidate their HOS data from ELD systems from multiple providers as well as from paper logs and time sheets.
"We are seeing lot of different combinations of data sources," says Shaun Gunderson, the company's vice president of managed services.
DataSense includes a web portal, the Client Information Center, that gives J.J. Keller clients a holistic view of compliance with reports that consolidate visibility of HOS violations by driver, by location and other areas of interest, she says.
For clients that choose to implement ELDs from J.J. Keller, the company has an add-on service, Driver DataSense Plus, that provides assistance during the entire process of converting from paper to electronic logs.
Auditing ELD data
Several managed service providers have developed technology that audits HOS data by using a variety of supporting documents.
Fleetworthy Solutions has a managed service for hours-of-service compliance that automatically consumes HOS data from the ELD systems that its fleet clients use. The service is able to identify falsification violations, such as when drivers log off duty while performing work-related functions like fueling and trailer hookups.
Its technology platform compares driver logbook data with fuel purchase data, roadside inspections, GPS records and other supporting documents to find these and other exceptions, says Michael Precia, the company's senior vice president of sales and account management.
The auditing that Fleetworthy does mirrors the process used by the Federal Motor Carrier Safety Administration to conduct on-site audits. Clients have visibility to exceptions caught by the audit through a compliance dashboard in a customer-facing web portal.
Fleetworthy recently launched an additional service that can send corrections found by the audit and approved by the client directly to the driver through the fleet's ELD devices. The drivers can then accept the edits for an automated compliance process, he says.
Beyond ELD compliance
Now that the vast majority of fleets have implemented technology to satisfy the ELD rule, compliance service providers see an opportunity to help their clients do more than manage HOS data.
Compliance service provider Lee Trans has developed a Driver Log Auditing System that audits ELD data for accuracy by interfacing with systems that fleets use that have supporting documents such as fuel purchases, payroll records and roadside inspection data.
Through Lee Trans' customer-facing web portal, fleets can access information on compliance and run reports. Its clients are able to send counseling letters to drivers from the portal to explain the violations they had, says Jackie Polk, executive vice president of Lee Trans.
Polk says that some of its clients are using reports in the portal to monitor their utilization of available drive time, and the company is exploring ways to expand its information services to provide driver behavior and CSA data for safety and risk management.
ELDs have "really opened up a path to get data that didn't exist before," she says. "We are working with clients to identify what they believe will be most useful."