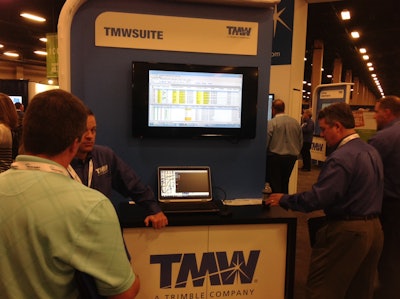 TMW Systems will be discussion blockchain technology during the Truckload Carriers Association's (TCA) annual convention. Timothy Leonard, TMW chief technology officer, will present Finding Your Place in the Blockchain Revolution at three different times during the convention.
"Blockchain technology's potential to disrupt almost every business market is undeniable, and its potential in the trucking industry specifically is extensive," said Leonard. "We want to share what we've learned about blockchain with our TCA peers to encourage the trucking industry to embrace this innovative technology for increased productivity and optimization, and in turn higher profit margins."
The TCA represents nearly 700 companies working in and serving the truckload freight industry. The TCA 80th annual convention will be held in Kissimmee, Florida at the Gaylord Palms Resort and Convention Center March 25 through 28.
Leonard will present sessions on Sunday, Mar. 25 from 12:30 to 1:45 p.m., Monday, Mar. 26 from 2 to 3:15 p.m., and Tuesday, Mar. 27 from 12:45 to 2 p.m.
Blockchain technology is a continuously growing list of records, called blocks, linked and secured using cryptography. Its implementations in the trucking industry cross business segments and functions, which can improve processes from billing and payment to freight planning and fleet visibility. With open, distributed ledgers of information, trucking companies can modernize outdated and time-consuming processes plaguing the industry.