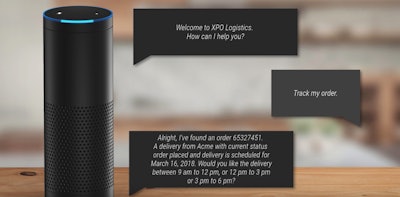 "Where is my order?" asks someone at home or the office. An answer comes promptly from the smart speakers in the room.
XPO Logistics, the largest provider of last mile logistics for heavy goods in North America, is making it possible for consumers to manage their delivery experience from point of sale through fulfillment and home delivery with smart speakers, otherwise known as intelligent personal assistants: Google Assistant and Amazon's Alexa.
Mario Harik, XPO's chief information officer, gave a live demonstration of the new smart speaker capability at the Home Delivery World 2018 conference in Atlanta, Ga.
"Tech-enabled consumer services are critically important in an increasingly competitive marketplace," he said. "We're helping our customers build loyalty and protect their brands, many of which are household names in e-commerce and retail."
Troy Cooper, chief operating officer of XPO Logistics, added, "Today's consumers expect access to, and control over, their personal experience within the supply chain. We're adding simple yet powerful tools that use connectivity to strengthen these relationships."
XPO shared a video about tech-enabled supply chain consumerization that has a demonstration of the smart speaker integration.
Also recently announced is XPO Direct, a nationwide shared-space distribution model for omni-channel retail and e-commerce customers.
XPO warehouses and last mile hubs serve as stockholding sites and cross-docks for multiple customers at the same time. XPO says its broad North American footprint can position goods within two days' delivery of 95 percent of the U.S. population and in close proximity to retail stores for inventory replenishment.
XPO Logistics supports its customers' transportation needs with brokered, contracted and owned capacity.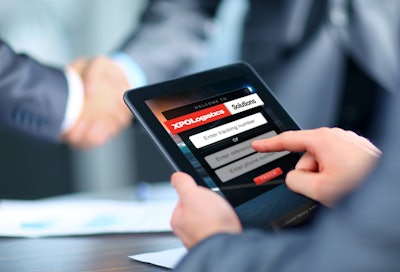 "Retailers and e-tailers are looking for new ways to position goods more efficiently to shorten delivery transit times without adding overhead," said Bradley Jacobs, chief executive officer of XPO Logistics. "XPO Direct offers customers industry-leading flexibility by sharing our technology, trucks and workforce at over 100 sites, with hundreds of additional sites at the ready."
XPO Direct uses proprietary technology to link multiple sites with cross-network visibility.
"We use this information to predict when and where to place products by SKU number, and reflow goods to other sites as needed," explained Harik.
XPO invests more than $450 million in technology annually. Its recent investments include the XPO Connect digital freight marketplace with multimodal infrastructure, and WMx, a cloud-based, mobile warehouse platform.