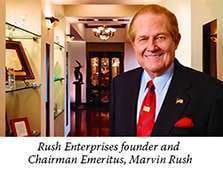 Rush Truck Center founder W. Marvin Rush passed away Thursday. He was 79.
Rush founded his company in 1965 with a single dealership in South Texas. Today, Rush Enterprises operates the largest network of commercial vehicle dealerships in the U.S.
"With his entrepreneurial spirit, larger-than-life personality and leadership, the company grew from a single GMC truck franchise in Houston, Texas, to the largest commercial vehicle dealership group in North America," says W.M. "Rusty" Rush, Chairman, Chief Executive Officer and President of Rush Enterprises, Inc. "Along the way, the company became the first automotive dealership group to go public, in June of 1996."
Marvin Rush served on the company's Board of Directors from its incorporation until August 2016, also serving as the company's Chief Executive Officer from its founding through 2006.
"My father's entrepreneurial spirit, belief that our employees are our company's most important asset and commitment to providing our customers with excellent service are the foundations of our company's culture," Rusty Rush adds. "All of us at Rush Enterprises will honor his memory by continuing to uphold the culture he created and grow the Company he loved so much."