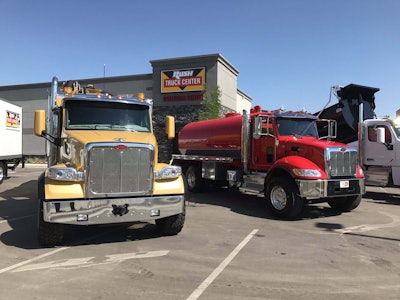 Rush Truck Center showcased the new jewel in its 108-location dealer network Monday with an open house at its 83,000 sq.-ft. Denver facility.
Rush Truck Center has been in the mile-high market since 1999. The company previously operated two facilities on a single block one mile west of its new location. Rush purchased its new 13.5-acre campus earlier this decade after a "few years" of searching for a location capable of housing the company's expanded footprint, said Rusty Rush, president, chairman and CEO. The new location, which sells Peterbilt, Isuzu and Ford commercial trucks, is "over the top [of] what I expected," Rush said. "I'm very happy with the facility. It's what the people of Denver deserve."
Rush Truck Center – Denver features 69 service bays (including dedicated CNG/LNG bays), a parts department of more than 15,000 SKUs, a fleet of ten 24/7 RushCare mobile service trucks as well as a collision repair and full-service leasing division. The facility has 140 employees and 55 service technicians.
Rush puts the facility among the "top five, maybe even top three" of his network's locations, and Monday's special guest agreed. Tony Stewart, longtime NASCAR driver and partner with Rush Truck Center through his Stewart-Haas racing team, was on hand to greet customers and fans at the open house. During a brief stage discussion with Rush, Stewart complimented the Denver location as one of the nicest he's seen—"and you've seen a lot of garages," Rush added.
Monday's grand opening isn't the only expansion to the Rush Truck Center network this year. Rush is building new locations in Houston and College Station, Texas, and is hoping to add another facility in Beaumont, Texas, and southern California. Rush said the new locations are unlikely to be as large as Denver's facility.
"You're not just going to open another big store because you're already in the big city," he said. "What happens is you feed off the big city and the other population areas around them to grow."
Sales wise, Rush said the company is riding a steady track toward eclipsing its 2016 order totals.
"There have been a few stronger areas but it has been fairly broad-based [growth]," he said. "That's what has been very pleasing to me. That it hasn't just been one market segment. That helps you feel that you can sustain it."
Now in its 50th year as a Peterbilt dealer, Rush Truck Center's 54 Peterbilt locations in 11 states makes it the largest Pete dealer in the U.S. It also is the nation's largest Isuzu commercial dealer with 22 locations, and operates seven Ford commercial truck locations. Rush said he'd like to see that latter number grow as well.
"We are always constantly looking for opportunities to grow with them. No question."