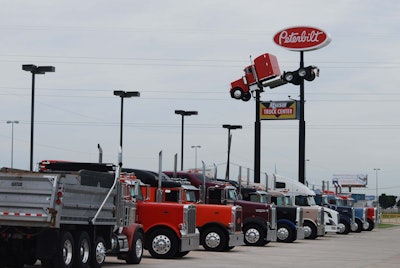 Rush Enterprises is unfurling several enhancements to its telematics offering, including full integration with RushCare Service Connect, access to Geotab training and Marketplace, a soon-to-be introduced universal harness and reporting and logging capabilities.
Rusty Rush, the company's chairman, president and CEO, says by integrating with RushCare Service Connect, the powerful telematics products give customers the tools to not only monitor their fleet's performance, but take action as needed to stay up and running.
Within RushCare Service Connect, telematics customers have visibility to all the Geotab faults on their fleet vehicles and can schedule service within the portal at the Rush Truck Centers service shop of their choice. With a Fault Code Management Support package, specialists at the RushCare Call Center can monitor those fault codes and alert customers immediately if there is an issue.
For added convenience to the customer, Rush says invoices, photos and other documents related to the repair history are also readily accessible in one place. Geotab also feeds odometer readings to RushCare Service Connect, giving customers the opportunity to build their own preventative maintenance schedules with reminders and email notifications. Rush Truck Centers' telematics customers have access to robust reporting about any connected vehicle in their fleet.
"It's beneficial to be able to track individual vehicles within your fleet and receive real-time alerts," says Cindy Hunter, Rush Enterprises' technology sales director. "More importantly, you can review the data of your entire fleet to identify issues and their causes, so you can help prevent downtime. These technological enhancements are really changing the way fleets are managed today."
For additional product support, Rush Truck Centers' telematics customers have full access to Geotab's support and training team via one-on-one sessions, group training, phone or live chat. Customers also have access to the online Geotab marketplace, which offers integration with several other fleet management systems, including Cummins, Decisiv and Dossier Systems. This marketplace is mobile-enabled, so drivers and fleet managers can access it from mobile device or tablet.
Currently in pilot, Geotab's universal harness works to connect its telematics product to most every type of commercial truck vehicle on the market.
"Since this harness works on most trucks, it eliminates the need for special orders and makes it faster, easier and more economical for customers to receive their products or to move them to new vehicles when they update their fleet," Hunter says.
As fleet managers prepare for hours of service mandates to change later this year, Rush Truck Centers telematics monthly Pro Plan includes full electronic logs, which the company says will be ready to comply with these new requirements.