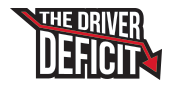 Editor's note: This is part of the first article in a three-month series examining the driver shortage, measuring its impact on trucking operations and exploring methods to mitigate the crisis.

Anyone following the driver shortage saga for the last two decades might think trucking has been crying wolf. After all, with each economic uptick since at least 1998 has come panic over the lack of drivers. And yet freight virtually always gets delivered, and store shelves are only empty when snow threatens south of the Mason-Dixon Line.
But this time, experts say, it's more than just hype: Carriers are turning down loads, desperate shippers are paying double in some markets, and "we've heard stories of freight sitting on the docks," says Todd Amen, president and chief executive officer of ATBS, a trucking financial services provider.
Driver pay increases have not kept up
Driver W-2s Vs. Inflation & Minimum Wage, 2006-Q1 2017

Over the past decade, for-hire driver pay has increased but at nowhere near the same pace as that of drivers for private fleets and nearly 40 percent less than growth in the minimum wage, according to analysis by the National Transportation Institute. Inflation also has outpaced driver pay increases.
A confluence of factors makes today's situation different, says Gordon Klemp, president of the National Transportation Institute: A rebounding ecomony, a historically tight labor market and regulation-driven productivity losses all are conspiring to bring trucking's underlying labor problem into full view. The American Trucking Associations estimates the industry is short 50,000 drivers, a deficit it says could grow to 174,000 over the next decade.
The situation has for-hire and even private fleets scrambling to fill seats, throwing money at drivers and exacerbating turnover rates that reached 95 percent at large carriers in the third quarter of 2017, according to ATA. In CCJ's own monthly MarketPulse survey, nearly 90 percent of fleet executives in December cited driver availability as their biggest concern, the highest level in the survey's history.
Owner-Operator, Company Driver Pay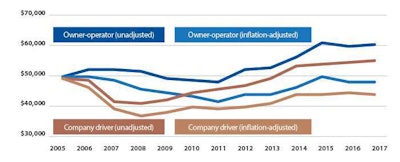 While pay has increased over the last decade, when adjusted for inflation, both drivers and owner-operators actually are making less money today than they were in 2005. Sources: ATBS; National Transportation Institute
"This has the makings of a perfect storm," says Klemp, whose company has been tracking driver pay since 1995. "One thing that has masked how bad the shortage is, is that we've had very poor demand," with gross domestic product growth averaging just 1.9 percent for the past eight years. "We haven't had a robust economy since 2003 to 2005," he says.
While the economy is not booming yet, preliminary fourth-quarter 2017 GDP was up 2.6 percent, slightly lower than the second and third quarters but still helping make 2017 the best year since 2014. Many economists expect the momentum to continue this year, largely because of strong underlying growth but also due to decreased business regulation and a $1.5 trillion tax cut passed by Congress late last year that is boosting incomes and encouraging investment.
The growing economy spotlights a U.S.-wide labor shortage that is "bigger than trucking," Klemp says. At 4.1 percent, unemployment is at its lowest level in 17 years. Even the rates for African-Americans and Hispanics, groups with historically above-average unemployment levels, have fallen to near or at record lows.
"There's not a lot of help we can just go get," Klemp says. "Even if we raise rates a lot and attract drivers, it's not like there's a group of people out there looking for jobs."
Driver pay vs. U.S. Consumer Price Index
| | | | |
| --- | --- | --- | --- |
| 1994-2015 | Flatbed pay | Reefer pay | Dry van pay |
| NTI Wage Index | 156.38 | 154.93 | 150.92 |
| CPI Inflation* | 160.24 | 160.24 | 160.24 |
| Driver pay gain/loss | 3.86% | 5.31% | 9.32% |
Driver pay since trucking deregulation in 1980
| | | |
| --- | --- | --- |
| Base year | Wage | Inflation rate |
| 1980 | $38,618 | 0.00% |
| 2015 | $111,455 | 288.61% |
*The Government CPI does not include food and fuel inflation, which have run an average of 7.2% per year during this period. NTI estimates that if driver pay had kept up with inflation after deregulation, drivers would be making more than $100,000 today.
And even if there were, trucking – at least the long-haul truckload segment with the biggest driver struggles – is likely not jobseekers' first choice. Employment growth in construction and manufacturing, industries that historically compete with trucking for workers, give candidates who might consider a career in trucking options that pay well and get them home every night.
But while driver pay has been rising and will continue to do so, its growth has been painfully slow, especially compared to pay at private fleets and the federal minimum wage. Klemp's data shows driver pay over the past decade has increased about 6 percent. Meanwhile, pay at private fleets has gone up nearly 17 percent, and the minimum wage has jumped 45 percent. Telling, too, is that if driver pay had kept up with inflation since the industry deregulated in 1980, drivers today would be making more than $100,000 annually.
Whether handicapped by pay, lifestyle issues or other factors, fleets' hiring struggles are taking their toll. Nearly one in five shippers responding to a recent supply chain survey sponsored by Averitt Express (CCJ Top 250, No. 23) said they experienced issues with capacity last year, caused mostly by the driver shortage. In December, DAT reported a van load-to-truck ratio of 9-to-1, the highest in its history, with flatbed loads running at 18-to-1. And there's no relief in sight: 76 percent of shippers in the Averitt study anticipate increased shipping volumes this year.
Top Concerns for fleet executives

In CCJ's own monthly MarketPulse survey, nearly 90 percent of fleet executives in December cited driver availability as their biggest concern, the highest level in the survey's history.
With capacity utilization running close to 100 percent, "there isn't much upside movement possible," according to FTR's January Trucking Update. And the situation is about to get even worse. Come April 1, full enforcement of the electronic logging device mandate likely will take still more productivity out of the market, with estimates that 25 to 30 percent of carriers, especially owner-operators and small fleets, have yet to comply.
Given these realities, trucking appears unable to respond fully to the opportunities available in today's business environment. That could have even broader implications: "Instead of a sluggish economy covering trucking's labor problems, those problems could now stifle a growing economy," Amen says.