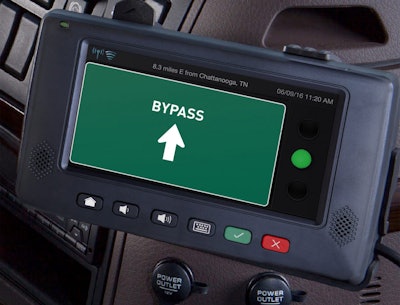 Drivewyze says its PreClear weigh station bypass service has expanded along I-44 and I-70 through Missouri with the re-activation of six bypass sites. These sites join two existing bypass sites near Joplin on I-44 east and westbound.
Activation of the weigh station bypass sites began following the installation and calibration of new weigh-in-motion sensors embedded in the roadway.
"Missouri is a key state in the Drivewyze network, and with our sites now re-activated we've unlocked further coast-to-coast bypass opportunities for drivers," said Brian Heath, president and CEO of Drivewyze. "This is great news for our customers, and for other carriers that have been anticipating the reactivation of the Drivewyze service in the state."
The six newly activated Drivewyze sites are located in Foristell, Mayview and St. Clair (both east and westbound). Foristell is on I-70 west of St. Louis (between St. Louis and Kansas City); Mayview is on I-70 east of Kansas City (between St. Louis and KC); St. Clair is on I-44 SW of St. Louis (between Spring Field and St. Louis).
The sites are located on the main arteries of Missouri, accounting for the majority of all truck traffic.
Drivewyze PreClear weigh station bypass service uses an app installed on smartphones, tablets or electronic logging devices to receive bypass opportunities at more than 700 locations, in 43 states and provinces.
The Drivewyze PreClear weigh station bypass application is available on a number of Drivewyze partner platforms, including Omnitracs, PeopleNet, Pegasus Transflo, Rand McNally, Zonar and Platform Science. Fleets can request a free weigh station activity report to help them determine how much Drivewyze can potentially save them before activating the subscription-based weigh station bypass service.