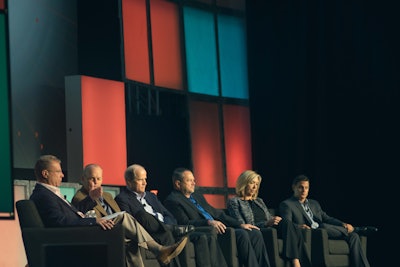 TMW and PeopleNet, both Trimble companies, announced that former NASA astronaut and football player Leland Melvin will speak at the companies' 2018 in.sight User Conference and Expo. The event takes place September 9 – 12 at the George R. Brown Convention Center in Houston.
Melvin plans to present on how to face and overcome life's challenges. While with NASA, Melvin lost his hearing during a training exercise. Emergency surgery resulted in only partial recovery of his hearing. He ultimately was able to travel off-planet twice on Space Shuttle Atlantis to help build the International Space Station.
Before becoming an astronaut, Melvin was drafted by the Detroit Lions in the 1986 NFL Draft. A hamstring injury cut his NFL career short, but he is the only person drafted into the NFL to have flown in space. The Pro Football Hall of Fame honored his athletic and academic accomplishments by placing his Detroit Lions jersey under glass in Canton, Ohio.
"Leland's incredible story of overcoming the many challenges he faced to achieve his dream is truly inspiring and is just one aspect of what makes him the perfect speaker to end the in.sight User Conference," said Bryn Fosburgh, president of Trimble Transportation Enterprise. "While his athletic career didn't go as planned, that didn't stop him from exploring his passion for science and technology to ultimately become a NASA astronaut."
Melvin was appointed head of NASA Education and served as the co-chair on the White House's Federal Coordination in Science, Technology, Engineering and Mathematics (STEM) Education Task Force developing the nation's five-year STEM education plan. He was the United States' representative and chair of the International Space Education Board (ISEB), a global collaboration in space.
"The 2018 in.sight User Conference is all about innovation and inspiration from different perspectives," said Thomas Fansler, president of Trimble Transportation Mobility. "Leland truly exemplifies what it means to be an innovator and we look forward to sharing his message to help inspire attendees to achieve their goals and aspirations."
The 2018 in.sight User Conference and Expo will feature more than 300 educational sessions, technology exhibitions and demonstration from dozens of solutions providers, and incomparable networking opportunities. TMW and PeopleNet customers can get registration details here: http://insightuserconference.com.