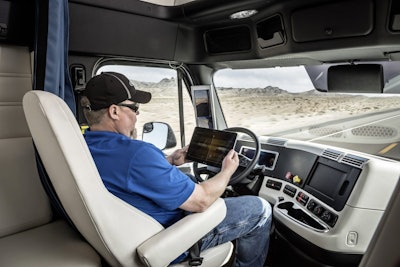 The U.S. DOT, which released updated guidance on automated vehicles in October, is accepting public feedback until Dec. 3 on its attempt at updating the federal government's stance and guidelines on autonomous vehicle development and deployment. Read CCJ's coverage of the AV 3.0 report at this link.
The U.S. DOT's Federal Motor Carrier Safety Administration plans to create a rulemaking stemming from the comments and from the DOT's fresh guidance, says the agency's associate director for policy and program development, Larry Minor.
Minor says FMCSA expects to initiate an advance notice of proposed rulemaking addressing automated vehicles – particularly to identify regulatory gaps, including in the areas of inspection, repair, and maintenance for ADS – by year's end.
One key update in the report, dubbed Preparing for the Future of Transportation: Automated Vehicles 3.0 (AV 3.0), involving autonomous trucks  is that the DOT will broaden the interpretation of "driver" to no longer assume a human is always driving a commercial vehicle.
Comments on AV 3.0 can be filed at this link.
Minor says the goal of broadening the interpretation is to more clearly define what is expected from the human driver and what is required of a truck's automated system. The report states that even with ADS in control of a vehicle, "FMCSA retains its authority to take enforcement action if an automated system inhibits safe operation."