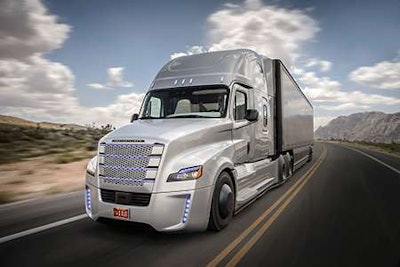 The U.S. DOT on Thursday released updated guidance on automated vehicles, including a loosened definition of who – or what – is considered a vehicle's driver.
Preparing for the Future of Transportation: Automated Vehicles 3.0 (AV 3.0) builds upon voluntary guidance provided in Automated Driving Systems 2.0: A Vision for Safety and supports the safe development of automated vehicle technologies, says DOT, by providing new multi-modal autonomous guidance; reducing policy uncertainty; and clarifying roles and processes for working with DOT as self-driving technology evolves.
Among the key updates to AV 3.0 is that DOT will adapt the definitions of "driver" or "operator" as appropriate to recognize that such terms do not exclusively refer to a human and could include automated systems.
"Moving forward, we recognize that a human is not always required behind the wheel," says Larry Minor, associate administrator for policy and program development at the Federal Motor Carrier Safety Administration.
AV 3.0 states, "In general, subject to the development and deployment of safe [Automated Driving System (ADS)] technologies, [FMCSA] policy is that going forward FMCSA regulations will no longer assume that the [commercial motor vehicle] driver is always a human or that a human is necessarily present onboard a commercial vehicle during its operation."
Minor says the goal of broadening the interpretation is to more clearly define what is expected from the human driver and what is required of a truck's automated system. The report states that even with ADS in control of a vehicle, "FMCSA retains its authority to take enforcement action if an automated system inhibits safe operation."
FMCSA says it will also consider an appropriate division of authority between the agency and individual states on how or whether CDL qualifications should apply to computerized driving systems. The agency says many regulations, like those involving inspection, repair and maintenance, can be applied in the context of ADS-equipped commercial trucks and motor coaches.
U.S Secretary of Transportation Elaine Chao notes that while automated systems have made strides in technology and safety, much work still lies ahead. More than 75 percent of the motoring public say they are apprehensive about sharing the road with autonomous vehicles.
"While these technologies hold promise, they have not yet won public acceptance," she says. "Consumer acceptance will the constraint to growing this technology."
The new AV 3.0 guidance also provides several updates to automated vehicle initiatives identifying and supporting the development of automation-related voluntary standards developed through organizations and associations and affirming the department's ongoing work to preserve the ability for transportation safety applications to function in the 5.9 GHz spectrum.
Minor says the FMCSA expects to initiate an advance notice of proposed rulemaking addressing automated vehicles – particularly to identify regulatory gaps, including in the areas of inspection, repair, and maintenance for ADS – by year's end.