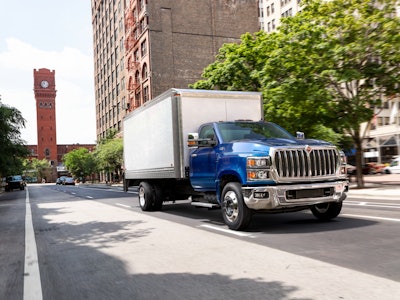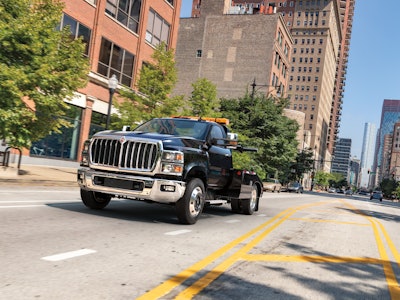 International on Wednesday debuted its CV Series truck – a refreshed re-entry in the medium-duty vocational segment.
Available in wheelbases from 141 to 243 inches – in regular and crew cab – and in 4×2, 4×4 configurations, the Class 4/5 CV Series gets a General Motors engineered 6.6-liter diesel engine under its forward-tilting hood that puts out 350 hp and 700 lb.-ft. of torque matched to an Allison 6-speed transmission. A right-side PTO mount is available.
That set up gives the CV – the replacement to the TerraStar in the International order book –  the capability of handling a maximum GCWR of 37,500 lbs. The new driveline is a considerable power upgrade over the outgoing TerraStar's 6.4-liter MaxxForce 7 and its 300 hp, 660 lb.-ft. of torque.
For four-wheel drive, the CV Series uses a Meritor heavy-duty, gear-driven transfer case – a departure from the chain-driven transfer cases typically found in the heavy work trucks built by traditional pickup manufacturers.
Its single high-strength frame rail – 50,000 PSI yield strength – was designed for upfitting and a segment-exclusive painted chassis is intended to stave off corrosion. HuckBolt chassis fasteners – a feature shared across the International Truck platform – provides better clamping force without re-torquing and won't come loose under duress.
Seven wheel bases are available for regular cab models and three for crew. The truck's straight frame rails don't use rivets on the top flange, providing a clean area from cab to axle that make it easier to mount a variety of bodies. In order to provide flexibility for the many available upfit options, the CV Series offers a dual battery box mounted under the cab and multiple fuel tank and exhaust outlet options.
An optional air ride rear suspension – with an engine-driven compressor – provides a smooth ride and height adjustability for users in search of driver comforts, as are infotainment options like an 8-inch color touchscreen with navigation and Apple CarPlay and Android Auto – a first for an International truck.
"These are features that consumer drivers will just expect in a commercial truck," says David Majors, Navistar vice president of product development.
"The CV Series has been compared to a field office with perks," adds Navistar's President of Truck and Parts Michael Cancelliere. "Our philosophy is that driver comfort is critical to get the job done smoothly and efficiently, and the CV Series brings that philosophy to life."
The CV Series was tested in extreme environments, including 40 degrees below zero Fahrenheit in Alaska and 115 degrees Fahrenheit in Arizona, as well as high-altitude testing at 12,000 feet in Loveland Pass, Colo.
CCJ has been invited to test drive the new CV Series Thursday and a follow up report from that will be posted in the coming days.