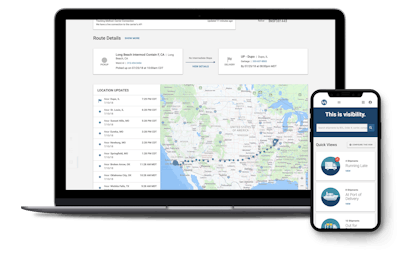 project44 (p44) has developed a new portfolio of Truckload shipment tracking capabilities for shippers and third-party logistics providers.
project44 is connected to over 175,000 global carriers, 92 percent of all domestic ELD/telematics devices, and has out-of-box integrations with 57 TMS vendors.
The new truckload capabilities within its Advanced Visibility Platform retrieve location updates from carriers and enriches the data with predictive analytics to improve accuracy of arrival, pickup, location, ETA, and delivery information.
ETAs are available pre-pickup through delivery and dynamically change with every data point, the company says. The ETAs consider real-time traffic, weather and road conditions.
In the near future, road constraints (i.e. maximum height or weight of a vehicle) will also be considered to predict the most likely driver route. The company plans to factor in driver hours of service to further refine the accuracy of the ETA as well.
The shipment visibility data is shared with shippers and 3pls using p44's configurable email, SMS, API updates, or push notifications. A geofence threshold can be applied to trigger events.
The data tracking capabilities also include load temperatures via connections to a wide variety of IoT sources.
Univar, a global chemical and ingredients distributor, is one of the shippers using the freight visibility platform.
"Delivering the best customer experience is critical to our success, and transportation and delivery are enormously influential on our customers' experiences," said Dirk Martin, senior director of transportation. "By incorporating dynamic factors like weather and traffic into predictive delivery assessments and allowing for the robust customization of alert messages, the project44 platform delivers real-time ETA insights, enables more proactive business decisions, and is helping us perfect the delivery experience for our customers."