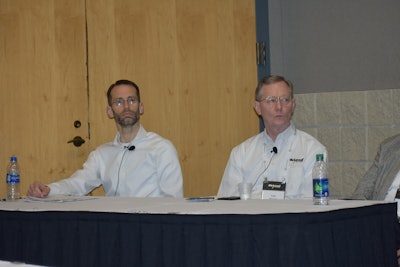 On Oct. 2, a panel of technology experts at the McLeod Software user conference in Birmingham shared a vision of automated workflows for smart trucks — with or without drivers.
The panel discussed a new paradigm for mobile computing that goes beyond traditional "circle of service" workflow by using integrated fleet management systems with "smart client" trucks.
Qualcomm coined the term "circle of service" in the late 1990s to describe hot key message functions, or macros, that simplified driver-dispatcher communications. Other mobile computing suppliers used similar macros to simplify data capture for drivers at arrivals, departures and other trip events.
Panelists Tom McLeod, president, and Mark Cubine, chief marketing officer of McLeod Software joined Matt Krump from Navistar in a breakout session called Smart Truck as a Client (STAAC).
The STAAC initiative from McLeod Software, a developer and integrator of enterprise transportation management software (TMS), focuses on leveraging new computing and connectivity features of smart tractors.
Eventually, McLeod believes that TMS systems will be integrated directly with smart tractors to power an autonomous freight environment. Loads will be dispatched to driverless trucks and exceptions managed from pickup through delivery.
Achieving this full "Level 5" autonomy may take years, but the interim possibilities are to improve the driver experience using integrated workflows between the office, truck and third parties for truck parking, platooning, vehicle maintenance, advanced routing and trip planning applications, among other options.
"No one is going at it alone. We are all in it together," said Krump, director of connected services for Navistar.
Remote diagnostics is an early example of a smart tractor application. Navistar uses embedded telematics devices in trucks to capture engine data and fault codes. With this data the OEM provides its customers a remote diagnostics and predictive maintenance service at no charge.
Navistar's OnCommand Connection service integrates with multiple third-party telematics devices. It delivers real-time diagnostics to fleets for all their vehicles, whether or not those vehicles are manufactured by Navistar.
Of the 500,000 truck VINs in OnCommand Connection, about two thirds are from OEMs other than Navistar.
"We diagnose them all," Krump said. "We understand trucks and engines, how to interpret that data, and put it in an understandable form."
Navistar is working with software companies to develop and test autonomous driving systems that capture data from cameras and sensors and interface with vehicle controls.
"Our role is to be able to execute the plan that devices are sending to a vehicle and do it perfectly every single time," he says.
Navistar plans to maintain an open environment for third-party technology companies to have an "opportunity to bring their services to the table and give customers choices," he explained.
One company that is accelerating on the path to autonomy is TuSimple. The company has developed and is testing autonomous driving technology for a dock-to-dock business model where trucks navigate safely between highways and distribution centers.
TuSimple's Level 4 autonomous driving technology can see and interpret objects up to 1,000 meters. Currently it is testing a fleet of self-driving Peterbilt semi-trucks hauling commercial cargo for revenue on a daily basis along the I-10 corridor in Arizona.
Based on TuSimple's experience managing the truckloads of data generated by autonomous driving systems, data management solutions will be the diesel stations of the future, says Robert Brown, director of government relations.
"You will run out of data space on a truck before you run out of diesel," he says.
TuSimple uses a powerful edge computing device from Amazon Web Services (AWS) called a Snowball to manage the data collected at the vehicle level from 10 cameras and other sensors that create terabytes (TB) of data every day.
The AWS Snowball devices store up to 100 TB of data, with onboard computational capacity that allows for local data analysis and data compression. The devices automatically mark certain driving events for TuSimple's engineering team to study and review.
Once the data is uploaded to the AWS Cloud, TuSimple's development engineers use Machine Learning on AWS to improve the algorithms that power autonomous driving.
In 2019, TuSimple plans to deploy 200 trucks in the United States and be the world's largest AV truck fleet in commercial transportation service, generating millions of real-world L4 miles. The company has professional CDL-holding truck drivers and engineers to monitor its vehicles and system on all test runs.
Once the testing is complete and autonomous vehicles clear the legal hurdles, TuSimple plans to disband its fleet and operate solely as a technology company, Brown says.
With the developments already underway, it's easy to imagine TuSimple integrating its software with the TMS systems of fleets and shippers to create an automated freight environment.