Coretex Drive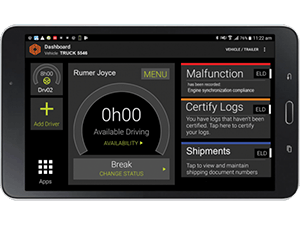 The FMCSA-registered Coretex Drive electronic logging device is a purpose-built tablet-based in-cab system that links drivers to vehicles and vehicles to dispatchers. Working in harmony with Coretex 360, Drive gives drivers the information they need to do their jobs efficiently and safely. Built around a modular app framework, Coretex Drive also offers single-pane-of-glass access to turn-by-turn trucking navigation, messaging, jobs, DVIRs, checklists, fatigue information, real-time driver feedback, IFTA data collection, vehicle service management, tracking, replay and a choice of custom applications.
Drive is optimized to run on Coretex-supplied Samsung and TomTom Bridge tablets, and the system also makes it easy to roll out Android-based mobile apps to drivers quickly and securely.The cost is $350 (8-inch tablet and mounting kit) plus $46/month (ELD and data) for 36 months.
Coretex, Coretex.com
Ezlogz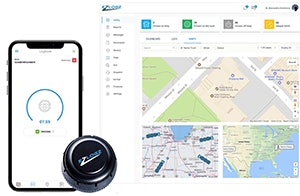 Ezlogz' all-in-one logistics platform was created by truckers for truckers. We know the last thing you need is another headache, so that's why we made our ELD easy.
But we didn't stop with easy. Drawing on our own years of experience in the logistics industry, we built a solution that not only complies with ELD guidelines but also includes state-of-the-art services that no other ELD provider can match.
Points-of-interest mapping technology provides up-to-the-minute information on any roadside service you may need.
Our one-of-a-kind social network keeps you connected with friends, family and the logistics industry while you're away from home.
Stay organized by simply taking a picture of a document, then attaching it to the appropriate files or status.
Finally, and most importantly, Ezlogz is the only ELD built on game-changing blockchain technology, so your data is tamperproof and trustworthy.
Just $29.99/month gets you started, with no annual contract and our smart ELD device included.
Ezlogz' smart ELD: Why make it hard?
Ezlogz, Ezlogz.com
ERoad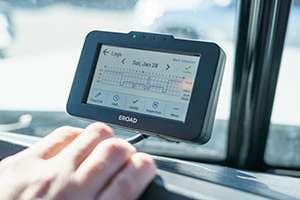 At ERoad, the minimum has never been good enough, which is why we had our ELD independently verified by PIT Group, so you can be sure you're compliant and operationally safe, now and into the future.
We built our ELD from the ground up on the same advanced technology platform as our electronic tax, safety and fleet management services. Designed with the driver in mind, our highly intuitive ELD synchronizes with the engine to automatically record HOS. Its simple touchscreen lets drivers view, edit and add notes to their logs, and easily present their record of duty status during roadside inspection.
It's tethered in the cab, accurately recording distance and location at a tax-audit level and providing reliable data you can depend on. There's no risk of a dropping Bluetooth connection and no additional data costs.
We back up our proven platform with 17 years' transportation industry experience and U.S.-based customer support.
ERoad, ERoad.com
Fleetworthy Solutions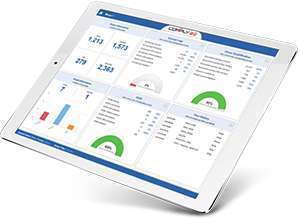 Formerly ITS Compliance, Fleetworthy Solutions Inc. provides owners and operators of truck fleets with outsourced compliance services and technology solutions that take them "Beyond Compliant." Fleetworthy Solutions combines exceptional client service, advanced technologies and more than 30 years of transportation industry expertise to make sure that drivers and assets are "fleet worthy." The company helps commercial motor carriers of all sizes surpass compliance of federal, state and local regulations while streamlining processes to reduce costs and mitigate risks. Fleetworthy Solutions pulls data from ELDs and other telematics providers, in addition to paper logs, and analyzes that data, consolidates it and displays it in an online dashboard — granting a "single version of the truth" of a fleet's driver and asset data. Fleet managers can be made aware of falsifications, omissions and violations in near-real time. While awarding a higher level of confidence if audited, this quick and easy access to actionable insights allows for faster corrective action to be taken — improving safety for drivers, fleets and the motoring public.
Fleetworthy Solutions, Fleetworthy.com
Pedigree Technologies Cab-Mate One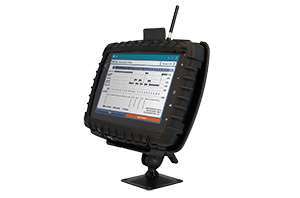 Pedigree Technologies recently launched Cab-Mate One as the most affordable and easiest electronic logging plug-and-play device to install (five minutes). The Cab-Mate One is the third addition to the company's FMCSA-certified ELD Chrome offering, built on the award-winning, intuitive and reliable OneView platform.
Not only are packages based on a customer's specific needs and budget, the offerings also are developed using customer feedback and real-life applications. This means Android-ready ELD Chrome offers FMCSA compliance with options for expandability into a full suite of comprehensive business management tools, from basic ELD to trailer, equipment and asset tracking and tire pressure, tank level and temperature monitoring. ELD Chrome was designed to enable consistent real-time visibility and actionable information with reliable connectivity and a fleet manager-approved interface.
Monthly fees are as low as $22/month depending on expanded applications and quantity pricing. The Cab-Mate One runs as low at $399 each when purchasing 100 or more units; $0 with lease.
Pedigree Technologies, PedigreeTechnologies.com
FleetLocate Compliance By Spireon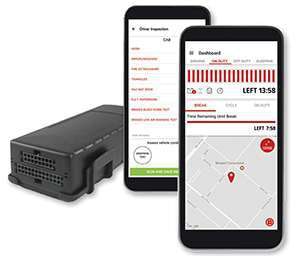 Introducing a new and improved FleetLocate that manages any combination of drivers, vehicles and assets – and ensures compliance with federal regulations such as hours of service and driver vehicle inspection reporting – all within the same friendly easy-to-use application fleets love. FleetLocate Compliance is the electronic logging device solution that's the right fit for your fleet.
Fleet operators can manage trucks that need ELD compliance, fleet cars and vans that don't, vehicles equipped with onboard telematics such as GM OnStar, trailers, assets and more — all within the single easy-to-use FleetLocate dashboard. The FleetLocate Shift companion mobile application makes HOS and DVIR reporting effortless via smartphone, tablet or rugged handheld device. Nearly a "set it and forget it" experience, FleetLocate Shift frees drivers to focus their energy on driving, not on maintaining logs. Even when you drive outside cellular coverage or tag-team with a co-driver, our app has you covered.
Spireon, Spireon.com/Fleet-Management
Electronic Logging from Quartix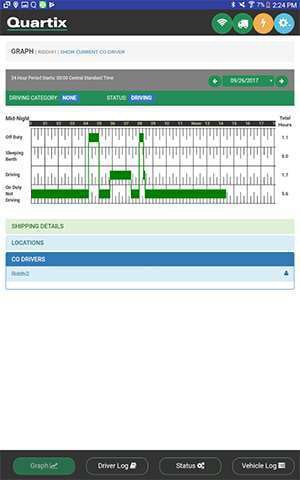 Vehicle tracking specialists Quartix's Electronic Logging product puts its current and future customers into compliance with FMCSA's mandate. It can be installed on its own or partnered with the company's comprehensive vehicle tracking services. Available on the Google Play Store and compatible with Android tablet devices, Quartix's Electronic Logging uses simple menu screens and input fields that allow drivers to log and change their duty status with minimal effort.
"Having been in the vehicle telematics industry for over 15 years providing fleet owners with management reports extending from real-time GPS tracking to IFTA filing figures, we are delighted to be able to further support our growing long-haul trucking customer base with our FMCSA-compliant solution," says Ed Ralph, Quartix chief operating officer.
Starting at just $14.99, Quartix's Electronic Logging is affordable for any budget.
Quartix, Quartix.com
Teletrac Navman Director® ELD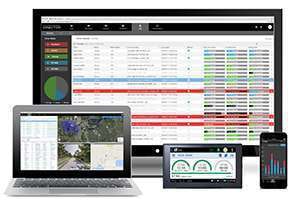 Teletrac Navman DIRECTOR fleet management platform tracks assets and collects data for business insights. In addition to reducing the paperwork necessary for tracking HOS, it provides second-by-second information to help carriers reduce operational expenses, identify trends, improve business processes and build a more efficient, safe and connected fleet. In addition to ensuring ongoing ELD mandate compliance as specifications are updated, Teletrac Navman DIRECTOR ELD customers receive updated ELD mandate compliance specifications and free system installation and training. The solution also offers sophisticated truck-guide navigation and dispatch capabilities. The initial cost is $0 to lease, with an ongoing monthly fee of $51 (or higher, with add-on options) for the ELD edition.
Teletrac Navman, TeletracNavman.com
VDO ROADLOG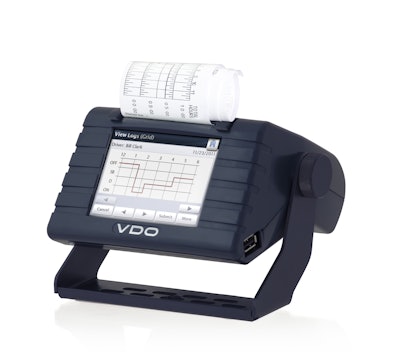 VDO RoadLog has a built-in thermal printer that provides an instant hard copy that resembles a traditional paper logbook grid for an inspection officer to review. A paper printout eliminates technical issues involving transferring log data that otherwise might lead to drivers handing over their personal cell phones to an officer or having the officer climb into the cab to review an electronic logging device screen. VDO RoadLog ELDs work with VDO RoadLog Office, an online fleet management tool for automated compliance reporting designed for fast, secure data transfers and automatic online record backup. The product also helps automate IRP and IFTA reporting, as well as pre-and post-trip inspections.
VDO RoadLog is designed for easy installation and use and is available without monthly fees or contracts. Optional features include Driver/Vehicle Track & Trace, Load & Trip Man- agement, VDO RoadLog Office Advanced and VDO RoadLog Office Premium.
VDO Commercial Vehicles, VDORoadLog.com
Verizon Connect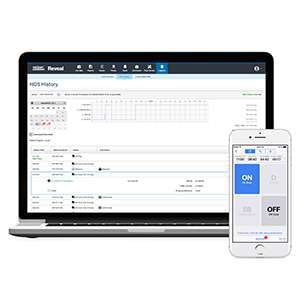 Verizon Connect compliance management software keeps pace with changing government regulations and gives you peace of mind that your fleet is operating safely and lawfully. It makes monitoring your drivers and vehicles easier, allowing you to focus on other aspects of your business.
Meet your DOT compliance obligations, automate data collection, and help your drivers stay legal with an easy-to-use mobile solution that covers a range of mandates, including ELD/HOS, DVIRs and IFTA.
Reduce the paperwork burden for your drivers, speed up roadside inspections, and keep central databases accurate and up-to-date.
Streamline and simplify the DVIR process for drivers – they can sign off on a full inspection, include detailed photos, and synchronize instantly with a central database, all from a mobile phone or tablet.
Using smart detection software, our DVIR technology makes sure drivers have physically checked the vehicle, taking enough time to do a full inspection.
DVIR compliance forms can be signed, stored and customized to include additional maintenance information for specific assets. Completed forms are stored securely to meet FMCSA data requirements.
Verizon Connect, VerizonConnect.com
Zonar Connect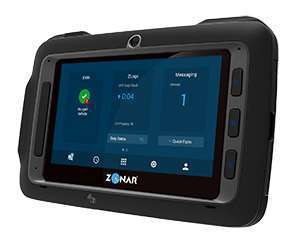 Zonar Connect is a dedicated tablet equipped with Zonar Logs, one of the only ELD solutions on the market to complete FMCSA end-to-end testing and be independently third-party validated and FMCSA self-certified. Connect also offers Wi-Fi and Bluetooth connectivity for dispatch, management and operational functions, as well as a camera, navigation, Android compatibility and over-the-air updates. Connect is connected even when outside of the cab, allowing the driver to submit completed documents and electronic DVIRs to dispatch without returning to the truck.
The tablet recharges in its in-cab cradle and integrates with the company's Ground Traffic Control to help provide fleets with better visibility of assets on the road. Pricing for the unit and ongoing service varies according to fleet size, service plan and options chosen.
Zonar, ZonarSystems.com
Cellular service can add monthly fees to ELD
Most any BYOD-type ELD with dedicated tablets will come with monthly costs for a data plan. In the case of Utah-based Wade Spencer's four-truck fleet, running the BIT ELD from Blue Ink Technology, the ECM plug-in devices are paired with dedicated $10 LG tablets. These come with their own fees for cellular service, necessary for the ELD to work properly.
In Spencer's case, that amounts to about $20 a month per tablet on his unlimited data plan. If he tried, he says, he could negotiate that cost down, given the BIT ELD uses only about 200 megabytes per month.
If you're pairing BIT or another BYOD with a smartphone or tablet you already have with a service plan, such cost wouldn't necessarily figure into your back-of-the-envelope return-on-investment calculation. Also keep that 200-MB data figure in mind when considering lumping ELD service into a pre-existing data plan. It's probably a good estimate, unless perhaps the device is collecting/communicating position data more frequently for IFTA purposes.
Spencer says BIT estimates a 700-MB monthly figure per ELD with its add-on IFTA featured enabled. Other companies have estimated a good deal less than both figures.
Cellular services can be limited to particular functions with most cellular providers. As other fleets have done, Spencer locks down the LG tablets to just a few functions (BIT, the company website and email, CoPilot truck navigation). For functions such as Netflix viewing during downtime, drivers can use a WiFi connection.