CCJ's Indicators rounds up the latest reports on trucking business indicators on rates, freight, equipment, the economy and more.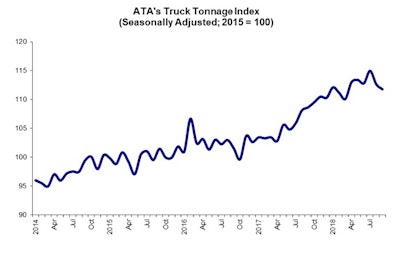 Truck tonnage slides for second straight month: The American Trucking Associations' monthly Truck Tonnage Index, a measure of how much freight is hauled by the for-hire trucking industry, fell eight-tenths of a percent in September, according to ATA's latest report.
What's more, ATA downwardly revised its August reading from nine-tenths of a percent drop to a 2 percent month to month dip. "
"Truck freight slowed at the end of the third quarter," said ATA Chief Economist Bob Costello. "As anticipated, the year-over-year gains have slowed on strength a year earlier, but there is no doubt that freight softened in August and September. Despite the decreases late in the quarter, based on July's strength, third quarter tonnage rose 0.1 percent from the second quarter and 5.2 percent from the same period in 2017."
Compared to September 2017, tonnage was up 2.9 percent in September. Year to date through September, tonnage is up 7 percent.
Class 8 natural gas truck sales down nearly 30 percent in August: Retail sales of natural gas-powered Class 8 trucks have fallen off 30 percent year to date through August, according to a recent report from ACT Research. The decline comes after retail sales of nat-gas-powered Class 8 trucks jumped 13 percent in 2017.
"With the narrowed fuel price spread between diesel and natural gas, it really isn't surprising that sales of natural gas units softened," said Kenny Vieth, general manager of ACT. "That said, it is important to remember that the conversion of a fleet from diesel to natural gas doesn't rest entirely on the savings of fuel." Rather, he said, consistency in fuel pricing is a key factor, too.
"Transportation power is no longer a one-size-fits-all proposition," he added. "All viable commercial vehicle power alternatives, from diesel and [natural gas] to [electric vehicles] of all kinds, must now be considered to accurately measure potential cost savings, while meeting future emissions."