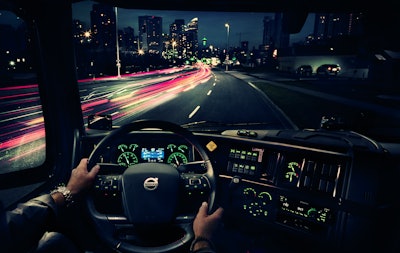 Volvo Trucks North America, in partnership with global analytics firm SAS, is enhancing its Remote Diagnostics capabilities, allowing for more precise analysis and decision-making.
Volvo Trucks North America Product Marketing Manager Ash Makki says working with SAS has helped refine the uptime-enhancing Remote Diagnostics through greater processing power to the data behind diagnostic codes.
"We've been able to expand the parts and trouble codes we monitor and recognize situational patterns that help us improve accuracy and obtain better insight into root causes," he says. "These enhancements ultimately mean Volvo Action Service (VAS) agents receive more precise data that allows them to better analyze trouble codes and provide actionable information to decision-makers and repair facilities, helping maximize vehicle uptime."
Conal Deedy, director of connected vehicle Services for Volvo Trucks North America, says the truck maker has placed a lot of emphasis on machine learning and artificial intelligence.
"We're uncovering hidden insights in our data and merging that with the truck knowledge from our engineering group. Together we are in a much better situation to understand exactly what the data is telling us and integrating it into the Remote Diagnostics service," Deedy adds. "We are already seeing the benefits and the future is extremely exciting. With the SAS platform in place, Volvo can process millions of records in real-time,  expanding Volvo's Remote Diagnostics capabilities, which on average helps reduce diagnostic time by 70 percent and repair time 25 percent."
Volvo trucks spec'd with Volvo engines since 2013 have come standard with factory-installed telematics hardware that provides connectivity for Remote Diagnostics, Volvo's proactive diagnostics and monitoring of critical engine, transmission and aftertreatment trouble codes. Upon detecting a code,  sensors on the truck collect streaming data in real-time to provide context. Data points and operating conditions, like truck location, altitude, ambient air temperature, truck gear, RPM level and torque loadhelp give the information needed for more precise diagnosis.
The same standard connectivity hardware powering Remote Diagnostics also allows customers to perform powertrain software and parameter updates over-the-air with Remote Programming, which helps improve uptime and vehicle efficiency without taking the truck out of service. Remote programming of software and parameter updates provides a significant time savings when compared with the 2.3 day industry average when a truck arrives at a bay, is plugged in, and manually receives updates.