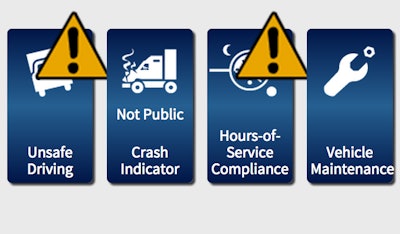 Attendees of this year's CCJ Solutions Summit will have the opportunity to hear insights from industry experts on how the new federal carrier safety scoring system could affect fleets, as well as an update on enforcement trends of electronic logging devices.
CCJ Solutions Summit will be held next week, Nov. 12-14 in Phoenix, Arizona, at the Sheraton Grand at Wild Horse Pass. A full agenda for the event can be found here. Breakout sessions will be held during the event next week titled "The New CSA" and "ELD Enforcement Trends."
Rich Lacey, executive vice president of SambaSafety, will talk about the new Compliance, Safety, Accountability system in the works by the Federal Motor Carrier Safety Administration. Specifically, he will talk about how the new model could affect fleet's CSA scores in the near future.
Commercial Vehicle Safety Alliance
, and Jeremy Disbrow, a trooper with the Arizona Department of Public Safety, will give attendees an update on ELD enforcement trends since the rulemaking went into effect.
Registration for the event, available online here, is $395 for all sessions, all event-included meals and either the golf or horseback activity. Lodging is also available during the registration process at a discounted rate of $225 per night. A colleague pass with full conference registration can be added for $195.
CCJ Solutions Summit is open only to fleet management.