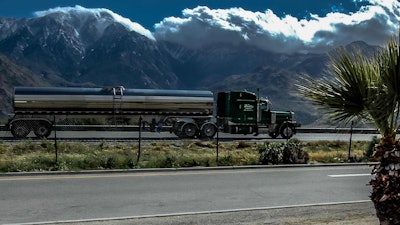 Earlier this month, a federal court in California heard oral arguments in the Western State Trucking Association's lawsuit against a California Supreme Court ruling that WSTA says could effectively block owner-operators from operating in the state.
WSTA filed its lawsuit in July, seeking to overturn an April ruling issued by the California Supreme Court that instituted strict criteria for what constitutes an owner-operator or an employee. That case, Dynamex Operations West vs. Superior Court, sought to challenge a ruling that classified owner-operators as employees, instead of independent contractors. The California Trucking Association has also filed a lawsuit challenging the California Supreme Court's Dynamex ruling.
Joe Rajkovacz, director of government affairs for WSTA, says the new criteria states that "you can't engage an independent contractor — an owner-operator, in the case of trucking — where you're engaged in the same business," meaning a "trucking company can't contract with an owner-operator," he says.
Like in other high-profile cases involving California labor disputes, WSTA argues that the ruling violates a stipulation in the 1994 Federal Aviation Administration Authorization Act (F4A), which says that states cannot enact laws that interfere with motor carriers' "prices, routes or services."
Rajkovacz says the California Supreme Court ruling "gets right to the prices, route and services" provision. The impact of the Dynamex ruling "is not some remote tenuous economic link," he says. "It's direct and it's huge."
However, the judge hearing the case, Judge Morrison England in the U.S. District Court of Northern California, must navigate existing court precedents, including the high-profile 2014 decision in the Dilts vs. Penske Logistics case, in which the federal 9th Circuit Court of Appeals ruled that carriers must comply with California's meal and rest break laws.
California and the Teamsters, who intervened in the case on the side of the state, argued in court that the Dilts v. Penske case is precedent and that England should uphold the California Supreme Court's ruling in the Dynamex case based on that precedent.
The DOT is also expected to decide soon on a petition from the American Trucking Associations that seeks to exempt carriers from California's break laws. The DOT's decision could have an impact in the case, says Rajkovacz. A brief filed by the DOT in 2014 within the Dilts v. Penske case argued in favor of requiring carriers to comply with California's break laws, and the court based its decision in part on that brief, says Rajkovacz.
ATA argues in its petition that federal law should supersede any state-level laws that go beyond federal standards and do not offer a tangible safety benefit or that "unreasonably burden interstate commerce," says ATA spokesperson Sean McNally.
Though ATA's petition does not pertain to WSTA's lawsuit, a change in DOT policy regarding federal-state conflicts could help shift the courts' opinions, says Rajkovacz.
England also during the oral arguments acknowledged that these cases, particularly due to varying decisions in court, could ultimately make its way to the U.S. Supreme Court for a final verdict. "He could not be more right in making that statement," says Rajkovacz.