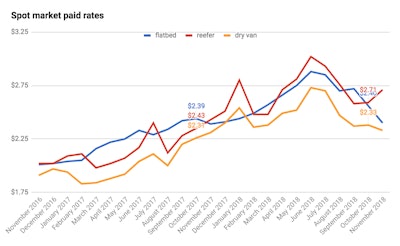 Per-mile flatbed rates on the spot market continued to fall off in November, according to monthly rates data from Truckstop.com. The nation's per-mile flatbed average has now dropped 32 cents since September, after surging the first six months of the year to a record high.
Reefer rates jumped in November, in line with seasonal trends around Thanksgiving, and van rates dipped slightly.
Flatbed rates peaked at $2.88 a mile in June and bounced around in the later summer months. However, they fell 16 cents in October and another 16 cents in November, hitting $2.40 a mile in November.
Compared to the same month last year, flatbed rates were up a penny.
Reefer rates hit $2.71 a mile in November, up 12 cents from October and 28 cents from November 2017.
Van rates in November fell by a nickel, to $2.33 a mile. Compared to the same month last year, van rates were up 2 cents a mile nationally.