A pair of two-man Isuzu technician teams from Japan and the Philippines were named winners of the 13th Annual Isuzu World Technical Competition Thursday night.
In Category A, Japan beat out teams from nine other countries at Isuzu's Training Center in Yokohama, Japan, in a day-long event that consisted of timed written exams and hands-on practical exercises. The Philippines took top honors in Category B from a field of 22 countries.
Attending teams were split into categories by their country's emissions standards.
Team USA took silver for the second consecutive year – no small accomplishment considering that before last year no U.S. team had ever reached the podium.
The team's coach, Technical Training Specialist for Isuzu Commercial Truck of America Justin Ridings, attributes the team's recent success to the installation and development of a North American contest two years ago – a tournament which finds the three best technicians in the company's network and then hones their skills in preparation for the global stage.
"We have an organized method to select the qualified candidates," he says, "and then consistency and dedication from that point on. Structured training and hard work. That's what it takes to succeed in a competition like this."
The two technicians' written scores were combined for each teams' score. For the practical exam, the team had to find and repair a fault using the correct tools and methods in 45 minutes or less.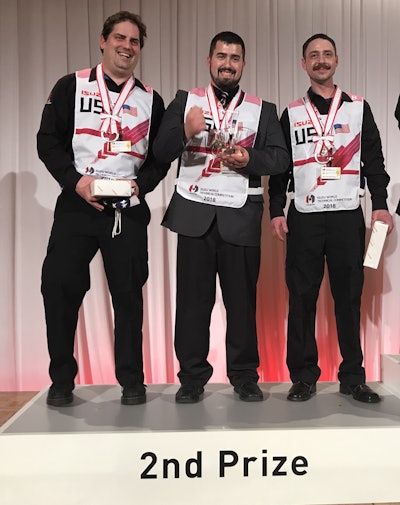 Team USA notched the best written test score in their division but Team Japan pulled away to a 23-point margin of victory in the practical exercise.
Kiel Trout, of RWC Isuzu Truck-Seattle, de-bugged and started his truck with 12 minutes left on the clock – a full 10 minutes before the Taiwan team in the stall next door accomplished the same feat. Soon thereafter, teammate Matthew Bertagnoli, of Lynch Isuzu Truck, finished rebuilding his steering box and joined Trout to button up the finishing touches on the truck.
By comparison, the home-standing Japanese team – a six-time winner of the event – got their truck started with 22 minutes left on the clock, but finished the overall challenge in roughly the same amount of time as the Americans.
By virtue of finishing in the Top 3, both Trout and Bertagnoli are required to retire from competition, but that doesn't mean their North American peers won't benefit from their expertise.
Trout says he is looking forward to working with the 2019 North American team and passing on what he's learned in hopes of helping that team take gold.
"We can give them advice," he says. "Easy stuff that we screwed up."
Bertagnoli is also looking forward to helping with next year's push for a gold medal but also wants to share his new-found expertise with members of his shop back home in Wisconsin.
"The experience of coming over here and being with people across the globe is just awesome," he says, "but back at the dealership I have a lot of up-and-coming technicians that I'm kind of mentoring. I'm definitely glad to take my knowledge back and happy to pass it on to them to help them get to the same place."
Alternate Josiah Carr, of Susquehanna Isuzu Truck in West Milton, Penn., maintains his competition eligibility since he didn't participate in Thursday's event, which he thinks will be advantageous in future competitions.
"I feel like you learn a lot about procedure more on the outside than the inside because on the inside you just have to go, go, go," he says. "On the outside you can see what people are doing right and what they're doing wrong."
Despite not having been able to compete this week, Ridings says Carr's contributions to the team to-date has been invaluable.
"We needed him for practice," he says. "He played a very important role in preparing the simulations and throwing a variety of situations at us to make us well-rounded, which we need to be for this competition."
Isuzu's first I-1 Grand Prix hosted contestants from 10 different countries. That number has swelled in the years since, with 32 teams – (category A) Israel, Taiwan, Japan, United Kingdom, New Zealand, Australia, U.S., Hong Kong, Singapore, Switzerland, (category B) Mexico, South Africa, Uzbekistan, Indonesia, Oman, Costa Rica, Colombia, Chile, Ecuador, Egypt, Philippines, Vietnam, Malaysia, Guatemala, Sri Lanka, Pakistan, China, Russia, Thailand, Saudi Arabia, Kenya and Kuwait – onsite for 2018.