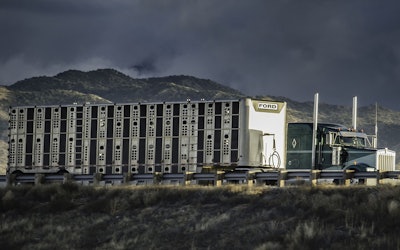 Update: The legislation has been passed by both chambers of Congress and President Trump has signed the bill into law.
The budget deal reached by lawmakers this week to thwart another government shutdown and to fund the government through the 2019 fiscal year includes a provision that allows drivers hauling livestock and insects to continue to run on paper logs — and without an electronic logging device — at least through Sept. 30.
Livestock and insect haulers have been exempt from the mandate from its onset, due to their need to ensure that the animals they're hauling have access to food and water and proper temperatures when they stop to rest. The spending deal, which was made public by Senate and House lawmakers late Wednesday, forgoes enforcement of the ELD mandate for livestock and insect haulers through the bill's expiration — Sept. 30, 2019.
Both chambers of Congress must now pass the bill and President Trump must sign it for the legislation to become law. The deal will likely sail through Congress on Thursday. President Trump hasn't said whether he'll sign it, expressing disappointment with the legislation's lack of requested funding for a wall along the U.S.' souther border. However, reports as of Thursday morning indicate he'll likely sign the legislation.
The U.S. DOT is currently accepting public comments on a request for more lenient hours of service regs for operators hauling livestock.