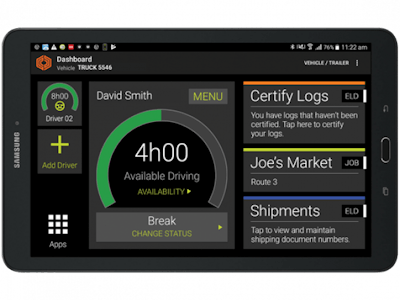 Despite electronic logging devices contributing to the current healthy rate environment, less than half (47 percent) of fleet operators surveyed believe the ELD mandate is good for the transportation industry.
Over two-thirds (69 percent) of fleets also believe that ELDs do not improve driver satisfaction, and 33 percent are having more difficulty retaining drivers due to strict hours-of-service compliance.
This and other findings come from a recent survey of 303 fleets by Coretex, a global provider of compliance and fleet management services, including ELD solutions. The company tracks over 50,000 assets with its technology.
Coretex conducted the above "ELD satisfaction" survey of fleet operators in the trucking industry between April 15 to June 15, just after the temporary grace period had ended for non-ELD compliance on April 1. The survey did not ask fleets to identify which ELD products they use.
Craig Marris, executive vice president of Coretex's mixed fleets division, says he is surprised that more fleets are not seeing a driver satisfaction benefit from using ELDs. He attributes the sentiment to fleets, and particularly the smaller operators, who may have rushed to implement ELDs to meet the deadline and have not, as yet, implemented more robust features offered by ELDs and mobile fleet management systems.
"If we did the survey again in 12 months it would be interesting if 69 percent are still dissatisfied with what ELDs have done," he said.
The survey also asked fleets if they are experiencing any problems with their existing ELD solution. The top responses were inaccurate data, connectivity issues, and poor technical support. Marris believes the technical issues fleets are having with some ELDs in the market are centered on the wireless connection between a vehicle's CAN bus and a ELD mobile app.
Overall, 82 percent of respondents said they are satisfied with their ELD provider but rated their vendor's technical support at an average of 3.73 out of 5.
Eighty-two percent of fleets said they prefer buying systems they can install themselves, but 55 percent want to purchase the driver display hardware from their ELD provider, the survey also found.
"We conducted this survey in an effort to gain actionable insights from fleet operators directly impacted by this significant regulatory requirement," Marris said. "The survey illustrates that companies, especially those with small fleets, view the mandate as a burden. Yet, now that connected technology exists inside every cab, there is a huge opportunity to utilize this newly captured data to improve efficiencies and productivity for the entire supply chain."