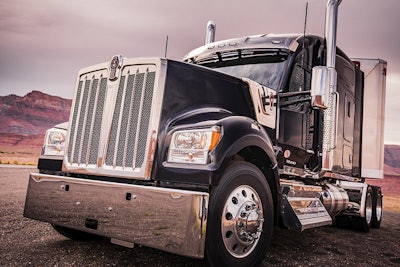 Kenworth announced the Denver-based Western Distributing recently took delivery of its first production-model Kenworth W990 at a ceremony this week at the company's manufacturing plant in Chillicothe, Ohio.
Western Distributing brought Vice President Marty Garcia, General Manager of the company's refrigerated division, Marty Rau, and veteran driver Tom Bogle to the ceremony. The keys were handed to Bogle, who has more than 5 million miles driven in his Western Distributing career.
Kenworth unveiled the W990 in September, the latest edition to its W900 line. The company will retain the W900, too.