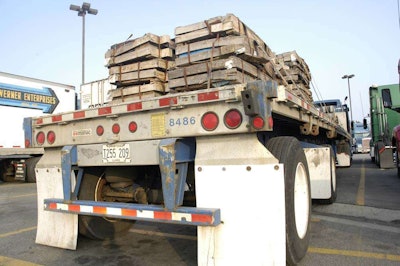 Truckstop.com's freight matching and load board has a new partnership with WeFixFreight.Com, a freight remediation service provider for shippers, 3PLs, brokers, and carriers in the United States. Truckstop.com customers will have access to a nation-wide emergency services network to handle freight issues that include tipped or shifted loads, re-delivery and cross-docking, mold and moisture, product disposal, and more.
"Time is money for shippers, brokers, and 3PLs. Freight exceptions are highly disruptive and wreak havoc with client inventory commitments, driver schedules, and client relationships," said Paris Cole, chief executive of Truckstop.com. "This partnership will allow our customers to access the WeFixFreight.com network through Truckstop.com to handle freight exceptions in real time."
WeFixFreight provides freight resolution services for load rejection, missed appointments, bad weather, acts of God, and other miscellaneous freight emergencies. The company says it has experience in TL, LTL, distribution, 3PL, and storage and fulfillment. Companies that use the service can access a network of more than 150 agents nationwide, via the WeFixFreight website, mobile app or toll-free call center.
Once connected, users can locate service centers, get estimates, and order services within minutes.
"We are pleased to partner with Truckstop.com to provide one-stop freight rescue services to its customers," said William Carlin, CEO of WeFixFreight.Com. "Our goal is to quickly and easily provide customers with local, reliable, and consistent freight remediation services whenever and wherever required."
The WeFixFreight network is bound by common insurance and risk policies that meet or exceed all shipper, 3PL, and carrier requirements. The company says its service pricing is standardized throughout the States.