In the not-so-distant future, matching loads with trucks might be as easy as catching a ride across town using the Uber app. In fact, Uber Freight is among a number of technology companies trying to digitize the process.
In the meantime, the road leading to supply chain automation is under construction.
Signs of the road construction include side-by-side computer monitors on the desks in freight transportation companies. Carriers and brokers typically have two and even three monitors to display the multiple applications they use in the freight matching process.
CCJ recently visited the Salt Lake City offices of ShipEx, an asset-based transportation and logistics provider, to see how its freight matching process works.
ShipEx transports dry and temperature-sensitive truckload freight as a motor carrier. As a freight broker, its ShipEx Logistics office has a Last Mile division that specializes in "hotshot" loads.
Going to market
The freight matching process begins with pricing. Whenever ShipEx Logistics gets a new business opportunity from a customer or prospect, a salesperson uses DAT RateView to analyze historical rate trends for specific lanes.
The salesperson uses Google Maps to verify mileages, especially for loads that have multiple stops.
DAT RateView shows the load-to-truck ratio in origin and destination markets. With these insights the salesperson determines rates for loads in the spot market and contract bids.
ShipEx Logistics assigns carrier reps to its core carriers. Its reps are expected to have daily contact with carriers to identify where they have trucks available and to offer loads to keep their assets and drivers moving.
To help expedite this freight matching process, ShipEx uses a cloud-based TMS system — Aljex from Descartes — that has integrations with the online freight marketplaces or "load boards" the company uses from DAT and Truckstop.com.
A right click on any load in the Aljex system sends load details to ShipEx's internal load board. This gives its core carriers an opportunity to bid on loads while the company simultaneously goes through the search results for carriers from DAT and Truckstop.com.
Carriers that bid on loads are highlighted in green in the Aljex system. The carrier with the lowest bid "is probably the one we are going to choose," says Isaac Mendoza, vice president of ShipEx's Last Mile division.
The Aljex system, DAT and Truckstop.com are the mainstays on the office desktop monitors.
The load board websites have built-in features that help ShipEx coordinate office activities. To help prevent duplicate efforts, carriers listed in Truckstop.com's search results turn red if someone in the office has already contacted them. Similarly, when using DAT, office staff can add notes to update the status of communications with carriers in the search.
Instant connections
Once the loads are dispatched to carriers, the Aljex system has built-in integrations to automatically track shipments. One of its integrations is with MacroPoint, a freight visibility platform that also is owned by Descartes.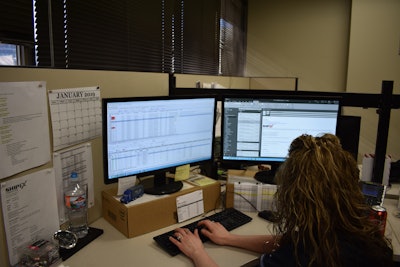 "If we need a shipment tracked, we can track the shipment. The driver just has to accept a text message and it will start tracking them," he says.
ShipEx customers can view the status of their loads using a web portal that is included in the Aljex system.
A large portion of the loads moved by ShipEx Logistics through its Last Mile division are "hot shots." These are loads transported by non-CDL drivers to commercial and residential addresses, he says.
The Last Mile division uses the Xcelerator dispatch platform from Key Software. This platform includes a mobile app that uses the GPS of driver smartphones to provide automatic load tracking and status updates for arrivals and departures.
Xcelerator doubles as a private load board. The platform shows capacity that is available from carriers using the same system. ShipEx can locate capacity based on the current locations of carrier assets.
The truckload division of ShipEx Logistics uses a different TMS, which happens to be the same system the motor carrier uses. In the brokerage instance, the TMS shows a history of carriers, by lane, that have previously done business with ShipEx. To search for a new carrier, the truckload brokerage manually enters load information into DAT and Truckstop.com.
Digital freight matching applications continue to become more integrated. As noted, some are already part of a single platform. Consolidation in the digital freight matching space will likely continue as shippers, brokers and carriers look for more efficient ways to stay connected and share visibility of available loads and capacity.