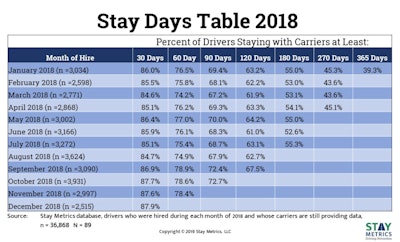 Stay Metrics, a provider of driver retention tools, announced a new indicator for trends in early-stage driver turnover.
Its new Stay Days Table serves as a "survivor" chart that shows the number of drivers hired by carriers each month and the percentage remaining at specific milestones after their date of hire—30 days, 60 days, 90 days, etc. This table allows Stay Metrics to follow specific groups, or cohorts, of drivers and to show how well carriers are retaining them over time.
The table makes clear that early driver turnover is a massive, industry-wide problem. Approximately 60 percent of the more than 3,000 drivers from 89 carriers hired in January 2018 did not make it one year with their carrier. Retention trends seem to have remained consistent throughout the year so similar results are expected for each month's cohort.
These statistics come at a time when the driver shortage is of critical concern to motor carriers. According to the American Transportation Research Institute's 2018 Top Industries survey, the driver shortage is the number one issue faced by carriers. Driver retention is also high at the number three spot.
"We believe the new Stay Days Table demonstrates the depth and pervasiveness of the early driver turnover problem. Our clients consistently beat industry averages for overall retention and this is their Stay Days Table. It represents some of the best in the industry," said Tim Hindes, co-founder and chief executive officer. "With drivers leaving so early, the driver shortage cannot be effectively countered. Our current version shows data for 2018 and we plan to update the metric for 2019 and beyond to continue monitoring the industry's progress."
The Stay Days Table saw a slight increase in overall retention for drivers hired in September and later. One possible explanation is that these drivers wanted to avoid changing carriers during the upcoming holiday season. The data from the next few months will show if the group of drivers hired in the fourth quarter match other groups' retention percentages when they hit later milestones, the company says.
Stay Metrics has products that motor carriers use to proactively address early-stage driver turnover. The company's orientation survey, typically given to drivers after a week on the job, can measure if recruiters are setting realistic expectations and the quality of drivers' orientation experience. The early driver experience survey, most often taken between 6-8 weeks after orientation, identifies areas of early disconnect and job dissatisfaction.
If a driver's response to any survey questions indicates an elevated risk of leaving, Stay Metrics sends their carrier immediate alerts to follow up and address the concern. Stay Metrics' client-facing website also gives carriers full visibility to individual survey responses with reports that identify changes in driver attitudes or perceptions towards their jobs based on early experiences. Even a driver's refusal to take a survey is a signal of potential turnover. On average, drivers who do not take the surveys are 10 percent more likely to leave their carrier.