Lytx shared data revealing the top 10 stretches of road where Lytx observed the most driver cell phone use, as well as the riskiest roads in the country's five most populous states.
Lytx is a provider of video telematics, analytics, productivity and safety systems for commercial and public sector fleets.
Lytx identified areas of Long Beach, Calif.; New York City; and Berkeley, Ill. to be the riskiest of the top five populous states. Memphis, Tenn. and Los Angeles contain the roads with highest observed cell phone use. Across the U.S., Lytx captured 1,353,837 instances of cell phone use in 2018.
"Our data shows a steady decline in risky driving instances, but these findings highlight the fact that while the transportation community has made great strides in boosting safety on the country's roadways, fleets and individual drivers need to remain ever vigilant," said Brandon Nixon, chief executive officer of Lytx.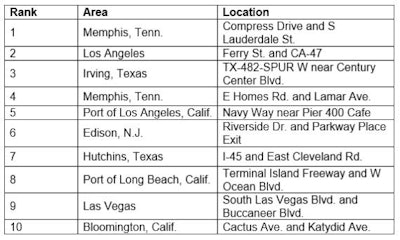 The chart to the right shows half square-mile road segments that had the highest volume of observed cell phone use behind the wheel in all of 2018, based on Lytx client data from around the country.
On average, Lytx data show drivers who use handheld cell phones while driving are around 50 percent more likely to get into a collision within 90 days than drivers who do not.
Lytx also found the top five riskiest half square-mile road stretches in the most populous states in 2018. The chart to the right shows data for California based on Lytx's proprietary risk score system, which includes many different risk factors.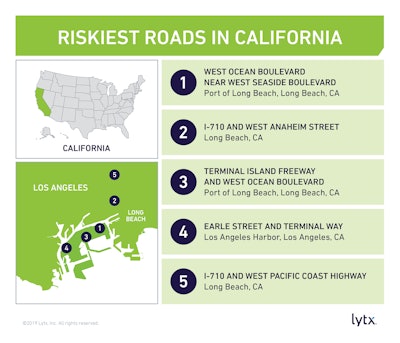 "As expected, the majority of concentrated risk fell in high-density areas, including cities, ports and road stretches with interchanges or on/off ramps, where there are a high volume of merging vehicles and overall activity," said Kyle Warlick, an intelligence analyst at Lytx who conducted the study. "Based on the U.S. risk ranking, we can see that driving in New York, Illinois and California roads is generally riskier than driving in Texas and Florida, despite those states' large populations."
Insights were derived from the entire Lytx U.S.-based client database between Jan. 1, 2018 to Dec. 31, 2018. The rankings are according to the Lytx proprietary risk score system.