CCJ's Indicators rounds up the latest reports on trucking business indicators on rates, freight, equipment, the economy and more.
'Trucking Conditions' last gasp before going flat?
For the second straight month, market conditions for trucking companies improved in December, according to FTR's monthly Trucking Conditions Index. The index in December tilted sharply upward as a result of improved freight Demand and moderate fuel pricing.
FTR forecasts the index to move into more neutral territory as 2019 progresses.
"While we don't anticipate truly negative trucking conditions at any point in 2019, we think we have seen the end in this cycle of the abnormally strong pro-carrier conditions that had held sway from the days following the 2017 hurricanes through the second quarter of 2018. December 2018 probably was just one last taste of the good ol' days of six months ago."
—
January tonnage rebounds after Nov., Dec. declines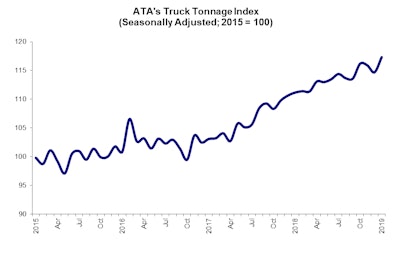 The American Trucking Associations' monthly Truck Tonnage Index, a measure of the amount of freight moved by for-hire carriers, climbed 2.3 percent in January from December. The gain comes following two straight months of declines to close 2018.
Compared to the same month last year, tonnage was up 5.5 percent in January, according to ATA. In 2018, the index rose 6.7 percent — the largest annual gain in 20 years.
However, ATA Chief Economist Bob Costello doesn't foresee that trend continuing in 2019. "We should expect moderation in tonnage this year as most of the key sectors that generate truck freight tonnage are expected to decelerate," he said.