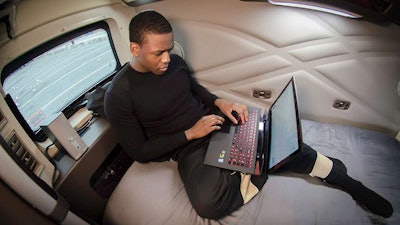 Stay Metrics, a provider of driver retention tools, announces new research that shows the differences in pre-turnover thoughts by drivers for key demographics and segments in the trucking industry in 2018.
Stay Metrics published the new research as a Stay Data Story, adding more insights and benchmarks to its recently launched Stay Days Table. Together these two reports help carriers understand industry trends so they can counter the driver shortage and early driver turnover, the company says.
"In response to the industry-wide driver shortage and high early turnover, understanding which types of drivers are the most at-risk provides carriers with a powerful tool to address the underlying issues," said Tim Hindes, co-founder and chief executive officer of Stay Metrics.
Observations show that pre-turnover thoughts of drivers are often a precursor to actual turnover. To discover what types of drivers are more likely to consider leaving their carriers, Stay Metrics analyzed 16,065 responses to one of the questions on the in-depth Annual Driver Satisfaction survey. The responses from drivers represented 75 carriers in 2018.
The survey question asks drivers how strongly they agree or disagree with this statement: "In the last six months, I have considered leaving my carrier." The study breaks down responses by gender, age, industry experience, driver type, and equipment.
Key findings are summarized below:
Gender: Female drivers tended to disagree more strongly that they had thought about leaving their carrier. This result is consistent with a previous study in 2018 by Stay Metrics that found women are more satisfied overall than men with their carriers.
Age: The 41-50 and 51-60 ranges are most likely to agree or strongly agree that they thought about leaving in 2018. Generally, the data show the tendency of drivers to be thinking of leaving is fairly consistent across all age groups. The only group that drops noticeably is drivers over 60.
Industry experience: Drivers with less than one year of industry experience and drivers with 7 to 15 years of experience were the most strongly to agree that they considered leaving.
Driver type: The only major area of difference noticed in this data set was that owner-operators seemed slightly less likely to have considered leaving than other types of drivers (company, subcontractors and lease/purchase).
Equipment: Refrigerated and flatbed drivers were noticeably less likely to have considered leaving their carrier. Intermodal drivers were the most likely to have thought about leaving.
The factors in the Stay Data Story may be contributing to the early driver turnover that is tracked by the Stay Days Table. This recent report by Stay Metrics serves as a "survivor" chart in the trucking industry that shows the number of drivers hired by carriers each month and the percentage remaining at specific milestones after their date of hire — 30 days, 60 days, 90 days, etc. The table allows Stay Metrics to follow specific cohorts of drivers and show how well carriers are retaining them over time.
The Stay Data Story series will be an ongoing series of data releases by Stay Metrics. It will be published periodically when significant trends are found in the company's data that are useful to the transportation industry at-large.
The Stay Data Story on Driver Intent to Leave in 2018 is available free of charge at http://go.staymetrics.com/staydatastory