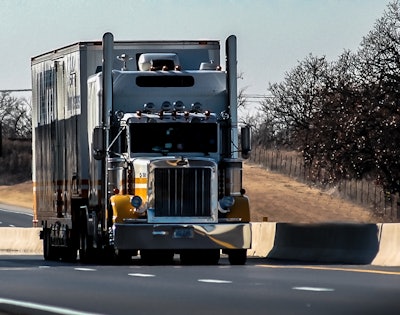 The Department of Defense, which accounts for a whopping 20 percent of the country's household goods shipments, is moving away from its current system for doling out household goods loads to carriers and, by 2021, will adopt a single-source model.
This means a single company — either a brokerage/3PL, an actual household goods line or a new company formed via a partnership between existing companies — will handle all of the household goods loads coming from the DOD. The DOD moves roughly 400,000 military families a year due to base reassignment and other circumstances.
Few details have been announced by DOD about what the single-provider system might look like, but for carriers that operate in the segment — many of them mid-sized and small fleets — the announcement has spurred a wave of uncertainty about the future of their operations.
"It has a dramatic impact on the household goods segment," says Tim Helenthal, president and chief operating officer of National Van Lines, a mid-sized HHG fleet that operates about 300 trucks and works with about 130 agents — smaller, local carriers that help fulfill its orders. Carriers like National Van Lines have invested years and plenty of dollars in developing marketshare under the current system.
A move to a single-source provider "pulls the rug out from underneath guys like us," Helenthal says. "Maybe under the future program we would be able to continue our market leading position, but it would be dependent on the single-source provider," which could choose to nix service providers like Helenthal's, he says.
"This brings a huge risk to the moving industry," says Charles White, president of the International Movers Association. "This is going to be taking $2 billion a year in annual spend and putting it in the hands of a single entity. That scares me. One of our biggest concerns is there's going to be winners and losers in this."
White contends the DOD made the decision without consulting data or without a study to determine what the effects of the transition might be. Though DOD hopes to increase capacity, reduce claims against shipments and increase satisfaction of military families, White says he's unsure the switch to a single-source provider will accomplish those goals. He says it could prompt carriers to transition away from DOD shipments. "So rather than DOD seeing an increase in capacity, I think quite the opposite is going to happen."
The DOD's current relocation management system had come under scrutiny due to complaints by military families about the timeliness and quality of their household goods movers, as well as claims for lost or damaged goods. A Change.org petition filed to the White House "kind of went viral" last year, says Helenthal. "It really lit the fire under this idea of outsourcing" to a single entity, he says.
Dave Dunn, spokesperson spokesperson for the DOD's U.S. Transportation Command division, said the move to a single provider is meant to address the issues spelled out by military families in the petition. "These complaints have been heard loud and clear, and the DOD agrees with military families that things must change," Dunn said in a statement to CCJ.
Under the current system, carriers file their rates with the DOD, and the DOD ranks carriers based on their rates and their customer satisfaction scores, then doles out contracts based on those combined scores. About 900 entities — whether brokerage-type operations or actual carriers — are set-up to compete for DOD's HHG moves currently.
Concerns about quality and accountability among military personnel aside, the system is ripe for bilking, contends Joel Summer, a third-generation owner of a household goods mover based in the New York area. Summer retired in 2010, but has served as a consultant to the industry and to van lines since.
He says entities were setting up shell companies — "paper companies," as he called them — to land household goods contracts with the DOD for its relocation moves. These companies, referred to as transportation service providers (TSPs) by the DOD, were often operated by a larger company, called a moving management company (MMC). The so-called TSPs often have no trucks, no drivers, no assets and no warehouse space, says Summer. After booking contracts with the DOD for household goods loads, the transportation service providers turn the contract over to the moving management company to then broker out to an actual household goods carrier.
He says the MMCs would skim the profits off the top and reap the rewards of the government contract while paying sub-prime rates to the actual household goods carriers. The system strained many HHG movers, says Summer, as the cheaper rates offered by the moving management companies weren't enough to sustain business and forced away carriers from the military-based HHG contracts or out of business entirely.
"The MMC is really a broker who controls the military moving industry," Summer says.
White acknowledges there potentially were some bad actors under this system, but that most operate above board and "provide fair and open compensation to all strata within the industry."
The DOD is holding a three-day meeting at Scott Air Force Base in Illinois March 18-20 to begin taking steps toward a single-source provider. Currently, it's unclear what a single-source set-up would look like.
White foresees a scenario in which a large defense contractor (companies like Halliburton and Raytheon) could partner with a large van line to try to procure the DOD's contract for the single-source entity. In this scenario, the defense contractor would bring expertise in landing government contracts and the van line would bring the expertise in HHG hauling.
Summer says the set-up could be a large logistics company, such as a large brokerage, that would then build a network of carriers to handle the DOD's shipments. He also says large van lines are prepping proposals. The single-source could also be a consortium set up via a partnership between two van lines, he says.
No matter how the single-source entity ultimately takes shape, the DOD "is unplugging their known capacity," says Helenthal, leaving carriers like his unsure of what the future holds for the massive segment of the household goods industry in which many carriers operate.