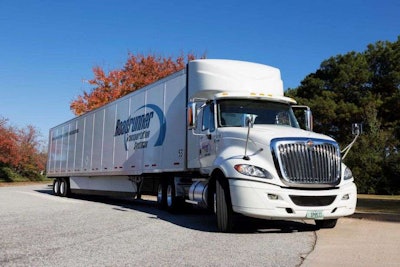 Roadrunner Transportation (No. 33 in the CCJ Top 250) announced Wednesday it completed a $450 million rights offering that will provide $30 million in operating cash and turn controlling share over to Elliott Management Corporation.
The Downers Grove, Illinois-based company operates nearly 3,000 power units, according to data from the CCJ Top 250.
Elliot purchased roughly 843 million shares of the company's common stock, equating to 90.4 percent of the company's shares. The company sold and issued 900 million new shares of common stock at the price of 50 cents a share as part of the rights offering. The company's stock price was 46.7 cents a share at market close on Wednesday.
Roadrunner said in its announcement that the offering was meant to "improve and simplify the company's capital structure in a manner that gave…existing stockholders the opportunity to participate on a pro rata basis."
In a presentation to investors on Feb. 1, the company noted it has seen a poor operating performance since 2015, issues with debt and restatement of financial statements after internal audits. In that time, the company has brought on a new CEO, president, CFO and CIO. Its restatement of 2016 financial results, issued last January, show a loss of $360 million for the year, as well as net debt of $454 million. The company hasn't yet issued financial results for 2018.
CEO Curt Stoelting said the rights offering "will support our long-term business plans and increase the speed and likelihood of a full operational recovery for Roadrunner."