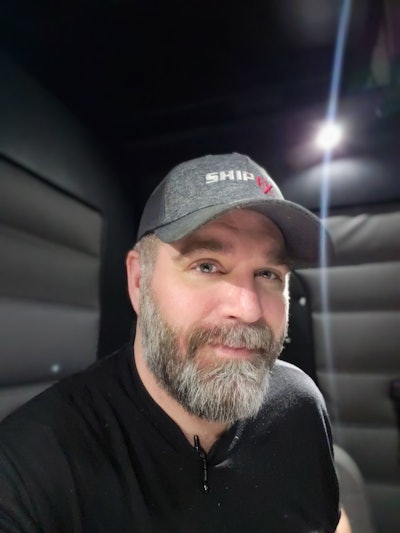 When ShipEX driver Brandon Howard spoke to CCJ on Wed., Feb. 20, he was at home, "not having a care in the world," he says.
Taking time off would not impact his next paycheck. Before he joined ShipEX, Howard had a much different experience.
"If I were to take time off I could get a zero-dollar check," he says. Every mile mattered and his paycheck would fluctuate due to loading and unloading times, traffic and weather.
At ShipEX, Howard gets paid the same amount all 52 weeks of the year, despite taking time off or being stuck in traffic and delayed by weather.
Increasingly, fleets in the for-hire truckload market are taking actions to pay drivers on an hourly or salary basis. A recent survey by Omnitracs, a fleet management software provider, found that approximately 33 percent of its customers are thinking about an hourly or salaried model for drivers. Thirty percent of the fleets are already in the process of implementing such pay models.
ShipEX, a Salt Lake City-based refrigerated carrier, pays drivers a $60,000 annual salary. The weekly pay amount of $1153.84 is supplemented with a monthly bonus program tied to mileage and safety/compliance. The company also pays 100 percent of drivers' health insurance premiums.
The mileage and safety bonus program is spelled out in a salary calculator on ShipEX's website. The productivity bonus starts at 12,000 miles and is multiplied by a cents-per-mile rate that increases for every year of tenure.
The safety/compliance bonus uses a points system for coachable events. The points accumulate for events recorded by the forward-facing camera system the fleet uses from SmartDrive. Once drivers have five points, such as from repeat hard braking events due to tailgating, they lose the bonus for the month. The first two coachable events in a month do not count against their scores.
"I know they've probably reviewed some of my stuff, but it wasn't necessarily my fault. The camera is a blessing, really," Howard says.
Howard has never had any safety events affect his bonus and has received the maximum productivity bonus for eight of the 11 months he's worked at ShipEX.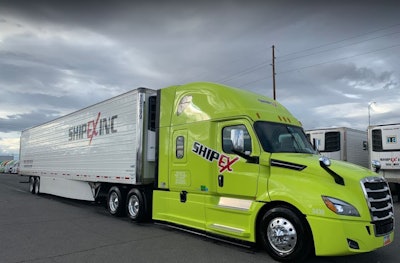 A driver with one year of experience at ShipEX who runs 15,000 miles would earn a monthly productivity bonus of $2,100 and a safety bonus of $375, according to the calculator. A driver like Howard with one year of experience would therefore see a monthly gross pay of 7,090.36 with the salary and maximum bonuses. The annual potential income the first year is more than $85,000.
The calculator shows a driver with eight years of experience has a yearly earnings potential of $119,100.
Putting the plan in motion
ShipEX was founded in 2007 by Eldin Diglisic, whose career in the trucking industry began as a driver with refrigerated hauler C.R. England, also based in Salt Lake City. To launch ShipEX, Diglisic maxed out his credit cards to buy two trucks, one for himself and one for his brother.
The company implemented the salary program in April 2015 when it operated about 150 trucks. Today the company has grown to more than 300 power units.
"The owner wanted drivers to have a steady paycheck," says Michael Smith, vice president of sales, who helped to implement the salary program. When evaluating other types of salary and guaranteed pay structures in the industry, Smith noticed one thing in common: they all had parameters that could prevent drivers from getting the expected pay.
ShipEX rolled out a salary program with some early conditions. Drivers were initially paid on a cents-per-mile basis for the first 30 days of employment. If they met expectations during this trial period they were moved to a salary, he says. That program was cast aside in favor of paying all drivers a salary from day one, with the expectation they run as many miles as they can safely, he says.
Drivers that do not meet the fleet's daily benchmarks for productivity are coached for improvement.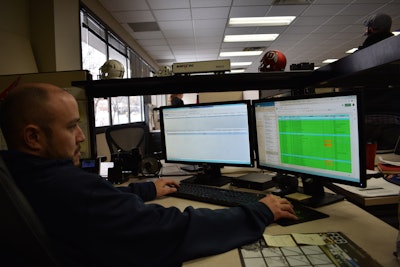 For the first 30 days on the job, all drivers are assigned to Anthony Vierra, ShipEx's director of operations. Vierra closely monitors their on-time percentage, miles and hours-of-service with the expectation that drivers get at least 550 miles and drive 9.5 to 10 hours a day.
Reports with these metrics are emailed to him directly from the company's TMWSuite software system.
When drivers complete orientation training, the fleet typically dispatches them to the same destination for their first load. Running as a convoy offers peer support and helps them "put their best behavior on," Vierra says.
On-time percentage is critical with the company's niche in hauling medical products such as kidney dialysis. The fleet expects drivers to get between 10,000 and 15,000 miles per month, which has not been a problem for Howard.
"I have never received a phone call about mileage," he says. "Weather has played a factor on occasions, but I am getting my personal goal of around 650 miles per day."
To sweeten the deal, ShipEX offers drivers a choice of equipment. Drivers can choose their own truck color and have their trucks wrapped in support of their favorite causes such as breast cancer, autism and honoring military veterans.
The salary program and incentives that increase with every year of experience make Howard, at 38 years old, believe he will retire with ShipEX, even if salary pay structures continue to be more common in the trucking industry.
"I recommend that anybody do it," he says.