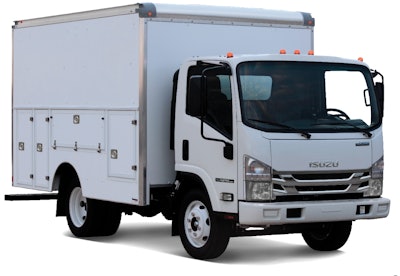 Isuzu Commercial Truck of America has made available a new road-ready service body for select Isuzu N-Series gasoline trucks, adding a 12-foot Supreme Spartan Service body for 109-inch-wheelbase NPR and NPR-HD models.
Among the standard features of the new Program body are eight compartments (four per side) with adjustable shelving for more cargo-organizing versatility; spacious stand-up height interior with a standard street-side pipe door; stainless-steel D-ring compartment handles for easier gripping with work gloves; and two interior LED dome lights.
Options include available Plexiglass sliders for ease of access to interior horizontal compartments, with one row of E-track on each side of Plexiglass slider; curbside pipe door; translucent roof; and prime Design drop-down double ladder rack
Shaun C. Skinner, president of Isuzu Commercial Truck of America, notes carpenters, plumbers, homebuilders, mobile auto repair companies and many others will likely find the new body and chassis combination an appealing solution for their needs.