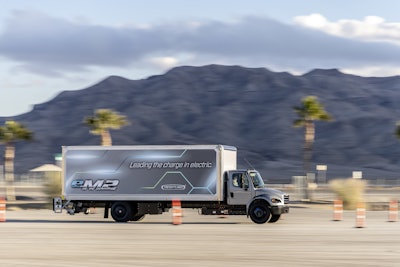 The march toward trucking electrification will be steps made in synch and hand-in-hand between customers and truck makers Daimler Trucks North America (DTNA) Advanced Technology Marketing Manager Greg Treinen said at the Work Truck Show in Indianapolis Wednesday afternoon.
During a brief walk around of the Freightliner eM2 electric truck, which made its debut late last year, Treinen says the truck maker has already established an Electric Vehicle Council – a collection of about 30 customers – charged with looking at applications other than pick up and delivery best suited for electrification, and with identifing some of the infrastructure needs for the wide deployment of electrics.
"It's not just a process of ordering a vehicle, taking delivery of it and you're off and running," Treinen says, noting DTNA is also setting up e-consulting services, which will take feedback from the council and put it into practice when series production of the eM2 and eCascadia kicks off in 2021.
Initial applications slated for the eM2 Class 6/7 electric truck are urban pickup-and-delivery and last mile logistics. Rolling out the electric chassis to other segments isn't as simple as it sounds. One of the key challenges from a vocational perspective, Treinen says, is body integration. Using standard U bolts isn't possible with battery packs installed, and new training is required to work, drill and weld around high-voltage components.
The eM2 features a peak horsepower of 480 and a range of 230 miles. Usable battery capacity tops out at 325 kWh and can be recharged to 80 percent in an hour. Built on the M2106 platform, it has a wheelbase of 270 inches.
DTNA expects to have 10 eM2 units in customer hands this year for testing and 20 of the company's Class 8 eCascadia.