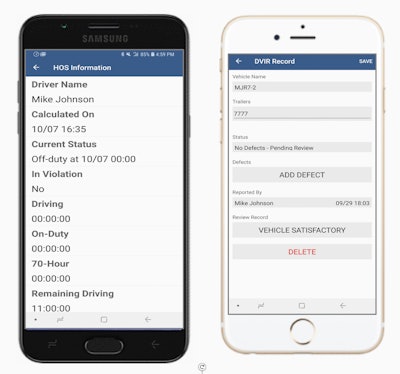 Mobile computing and ELD provider DriverTech announced an app, DT Mobile, that extends the functionality of its in-cab platform.
DT Mobile is an Android and iOS application for smartphones and tablets that gives drivers visibility to their hours of service information, access to dispatch messages and more. The App also has out-of-the cab operations such as completing vehicle inspection reports and capturing delivery information.
The announcement was made at the Truckload Carriers Associations (TCA) Annual Conference on March 10 in Las Vegas.
"With the launch of DT Mobile, DriverTech's ELD platform provides the best of both worlds," said Mark Haslam, CEO of DriverTech. "With our flagship product, the DT4000, fleets maintain the reliability and driver safety benefits of an in-cab fleet management system. With DT Mobile, the driver is free to perform a variety of operations away from the truck while still remaining connected to the fleet and aware of their hours of service information."
Once downloaded by drivers through the Google Play or the Apple store, drivers gain access to:
Hours of Service Anywhere – DT Mobile keeps drivers informed on their Hours of Service information that is synchronized with their DriverTech in-cab ELD.
Mobile Workflow & Imaging- Drivers receive detailed trip information and work instructions on their mobile device, enabling them to capture critical information while away from the truck. The app also enables mobile imaging using the smartphone's camera to take pictures of documents or damaged goods.
Two-Way Messaging – Extends DriverTech messaging capabilities for drivers to receive and respond to messages on their mobile device. Drivers are alerted when new messages arrive.
Mobile DVIR – Ensures drivers thoroughly conduct pre and post-trip vehicle inspections by adding tools to document potential issues while they walk around the truck. DT Mobile enables drivers to capture pictures of vehicle or trailer defects and then transmit those directly to maintenance team members.
During testing and roll-out, DriverTech says it paid careful attention to feedback obtained from drivers.
"Beyond the on-duty efficiency benefits of mobile workflow and DVIR, DT Mobile helps drivers to better manage their valuable off-duty hours," said Mark Haslam, CEO of DriverTech. "DT Mobiles lets drivers view their available hours or get updates from dispatch on where they may be headed next."