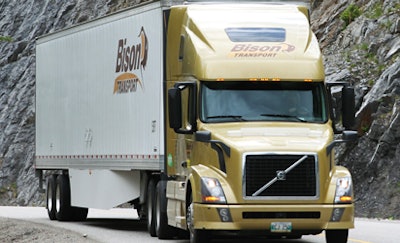 Twenty fleets have been recognized by the Truckload Carriers Association and CarriersEdge in the 2019 Best Fleets to Drive For program.
At TCA's Annual Convention in Las Vegas on March 10-13, two overall winners from the list below will be named "Best Fleets to Drive For" for small fleet and large fleet categories. Last year, Central Oregon Truck Company and Bison Transport won the award in the small fleet and large fleet categories, respectively.
The carriers in the program must have at least 10 trucks and be nominated by a company driver or owner-operator.
"The winners have set the bar high when it comes to keeping their professional truck drivers engaged while also providing a superior work environment," said TCA President John Lyboldt. "This coveted contest reveals the tremendous efforts put forth by these driver-centric companies."
Following the nomination process, CarriersEdge interviewed human resources representatives and executives from the companies, then graded the fleets in a variety of categories, including compensation, benefits, professional development opportunities and more. Driver feedback was also incorporated into the final score.
Three companies on the list – Boyle Transportation, Nussbaum Services and TLD Logistics – have been on the list for five consecutive years.
This year's 20 Best Fleets to Drive For are:
American Central Transport, Inc. – Kansas City, Missouri (No. 248 on the CCJ Top 250)
Bennett Motor Express – McDonough, Georgia (No. 60)
Bison Transport – Winnipeg, Manitoba (No. 66)
Boyle Transportation – Billerica, Massachusetts
Central Oregon Truck Company, Inc. – Redmond, Oregon
Crete Carrier Corp – Lincoln, Nebraska (No. 25)
Epes Transport System, LLC – Greensboro, North Carolina
Erb Transport – New Hamburg, Ontario
FTC Transportation, Inc. – Oklahoma City, Oklahoma
Garner Trucking, Inc. – Findlay, Ohio
Grand Island Express – Grand Island, Nebraska
Halvor Lines, Inc. – Superior, Wisconsin (No. 201)
Landstar System, Inc. – Jacksonville, Florida (No. 8)
Maverick Transportation, LLC – North Little Rock, Arkansas (No. 75)
Motor Carrier Service LLC – Northwood, Ohio
Nussbaum Transportation Services, Inc. – Hudson, Illinois
Prime Inc. – Springfield, Missouri (No. 14)
Thomas E. Keller Trucking Inc. – Defiance, Ohio
TLD Logistics Services, Inc. – Knoxville, Tennessee (No. 215)
Transpro Freight Systems Limited – Milton, Ontario
In addition to the Top 20, TCA and CarriersEdge identified five Fleets to Watch (honorable mentions). The Top 5 Fleets to Watch are:
Fortigo Freight Services Inc. – Etobicoke, Ontario
Leavitt's Freight Service – Springfield, Oregon
Liberty Linehaul Inc. – Ayr, Ontario
Roehl Transport, Inc. – Marshfield, Wisconsin (No. 65)
TransLand – Strafford, Missouri