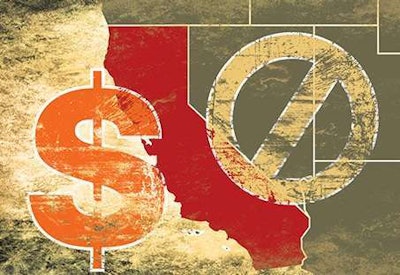 A new bill introduced in the California state senate would, if passed, effectively phase out diesel trucks over the next three decades.
The legislation, introduced by California Sen. Nancy Skinner, whose district includes Oakland and Berkeley, would require a 40 percent reduction in greenhouse gas emissions by 2030 and an 80 percent GHG reduction by 2050.
Skinner, who dubbed the bill "Ditching Dirty Diesel," says the legislation "is designed to phase out, over time, the use of polluting, diesel-fueled medium- and heavy-duty trucks and buses in California." It's also meant to speed up the state's transition to cleaner fuels, including zero-emission vehicles.
Joe Rajkovacz, director of governmental affairs and communications for the Western States Trucking Association, said WSTA has been told the bill "has serious legs legislatively" and that it is being spurred by recent developments in technology.
"Our position is that it's unnecessary legislation, but with the evolution that's taking place in zero-emission vehicles, it's not a surprise to us that this would drive forcing systemic changes to the trucking industry," Rajkovacz said.
Rajkovacz added that the bill does not differentiate between in-state and out-of-state trucks, noting it could have far-reaching implications beyond the state's borders similar to the California Air Resources Board's Truck & Bus Rule.
In addition to requiring the GHG emissions reductions, the bill would also require CARB to develop a strategy for medium- and heavy-duty trucks by Jan. 1, 2021, to help bring all of California into compliance with federal air quality standards. Skinner says a 2018 report by the American Lung Association found that seven of the 10 most-polluted areas nationwide are in California.
The legislation also calls for an unspecified percentage of the state's Greenhouse Gas Reduction Fund to be allocated each year through 2025 to support the transition to clean-fuel trucks and buses.
No action has been taken on the bill as of Wednesday, March 13.