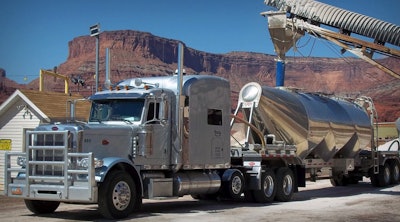 Stay Metrics, a provider of driver retention tools, announced the results of its first-year partnership with Brady Trucking included a decrease in driver turnover by 31 percent.
Brady Trucking owns and operates 350 trucks and a specialized trailer fleet strategically located at transportation facilities throughout the Rocky Mountain region, including the Bakken Oil Field. The Vernal, Utah-based carrier has established partnerships with some of the largest oil field service companies in the world.
Management wanted the company to be known as a leader in driver retention and chose to partner with Stay Metrics in January 2018.
"We recognize that retention is the key when it comes to our future growth," said Chuck Johnson, president and chief executive of Brady Trucking.
The Stay Metrics onboarding surveys are a key component of Brady's retention solution. The surveys check in with new driver hires at key points to gauge their expectations and evaluate if they are being met.
Initial survey reports found that new drivers were expecting to achieve certain levels of pay before they were fully oriented and trained. A solution was devised for new hires to fill out an expectations worksheet for pay. Drivers are given an immediate response that shows exactly what is required to achieve those expectations.
This process removed the guesswork and reassures potentially unsatisfied drivers that their expectations will soon be met. Addressing this significant cause of early driver turnover helped Brady Trucking improve retention by 31 percent in 2018 while it increased its driver count by about 40 percent.
The company has set a goal to reduce turnover by an additional 20 percent in 2019.
Brady also uses the Stay Metrics rewards program. Drivers can log in to the company's rewards portal to redeem points earned for completing training, attending safety meetings and meeting other objectives. Managers also give applause awards when they notice drivers doing something well or going above and beyond.
"Brady Trucking is well on its way to meeting its ambitious goal of running 500 trucks by the end of 2020 and Stay Metrics is proud to be a partner on this journey," said Tim Hindes, co-founder and CEO of Stay Metrics. "We're thrilled to share Brady Trucking's success with the industry at-large. The story shows how a management team committed to retention can make a big difference in a short period of time with the right data."
Hindes noted that he will be visiting Brady Trucking on May 1 to conduct a brainstorming and vision meeting with CEO Chuck Johnson and support staff from both sides. They are calling this event the 2020Vision Summit.
Stay Metrics has published the full case study on its partnership with Brady Trucking at this link