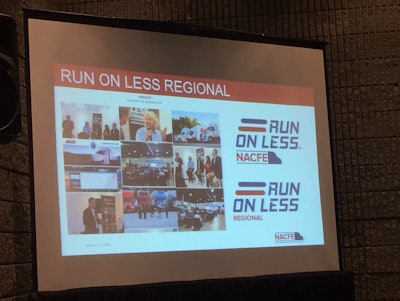 The North American Council for Freight Efficiency is accepting applications for fleets for its Run on Less Regional which will get underway this October.
In 2017, Run on Less demonstrated in a cross-country long-haul trip that it could get fuel economy up to 10.1 MPG through aero-enhanced features that minimize drag. However, the regional test won't be as easy since aero plays less of a role in regional trucks given their shorter runs and increased stop and go use.
"By saying we're doing regional, we're not making it easier on ourselves, but we think the industry can really benefit from it," NACFE Executive Director Mike Roeth said today at the 2019 Technology & Maintenance Council (TMC) meeting in Atlanta, Ga.
Some of those fuel-saving benefits in Run on Less Regional may come from taking a closer look at acceleration patterns, particularly from a dead-stop.
Run on Less Regional will focus on trucks that operate within 300 miles of their base. Ideally, participating fleets will come from different parts of the country. Owner-operators are also encouraged to apply.
"We are looking for fleets operating a wide variety of regional haul applications and duty cycles but we are also committed to high MPG," said Dave Schaller, NACFE's Industry Engagement Manager.
Roeth said that given the growth in regional haul trucking, fleets can benefit from fuel-savings tips proven during the course of the event which will take place from Oct. 8-27.
"There are a lot of factors occurring that are contributing to a growth of regional haul," Roeth said. "In Run on Less 2017 we were able to demonstrate the fleets operating in real world conditions could achieve 10.1 MPG on a consistent basis. But long haul is only one part of the truck market and we want to see just how fuel efficient fleets in regional haul can be given the challenges they face."
Fleets interested in participating should go to runonless.com to fill out an application. Manufacturers are also encouraged to encourage fleets to apply that they think exemplify high MPG in regional haul applications.
Run On Less is sponsored by Shell, PepsiCo and Geotab.