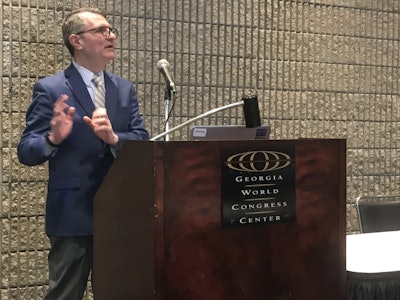 With each new Greenhouse Gas emissions standard, diesel engine aftertreatment systems get more complex and that's a trend unlikely to change in the years ahead.
Speaking at the Technology and Maintenance Council's Annual Meeting & Transportation Technology Exhibition in Atlanta Sunday, Eaton's Director of Technology Planning and Government Affairs Dr. Mihai Dorobantu says new engine components – including the deployment of hybrid-electric powertrains – will play important roles in meeting increasingly stringent nitrous oxide (NOx) and carbon dioxide (CO2) standards.
The Greenhouse Gas (GHG) Phase 2 standard, initially implemented in 2016, calls for carbon dioxide and other greenhouse gas truck emissions to decrease in 2021, 2024 and 2027.
"Incremental technology will get OEMs through 2021, but 2024 poses a real challenge," he says, noting 2024 standards call for a nearly 20 percent emissions reduction.
Dorobantu, echoing findings from the California Air Resources Board (CARB), says the abilities of selective catalytic reduction systems to reduce NOx are virtually maxed out. To further reduce NOx, he says, engines will need to provide more heat to SCR catalyst to maintain temperature, but such changes will likely have an adverse effect on fuel efficiency and would increase GHG emissions.
Three ways to reduce CO2, Dorobantu says, are downsizing the engine, downspeeding the engine and reducing aerodynamic drag and rolling resistance – all initiatives well underway across a broad range of trucking segments.
To improve diesel efficiency, he says, work lies ahead in air management and more precise exhaust gas recirculation.
Among the solutions Eaton stands ready to deploy is an electric TVS exhaust gas recirculation pump, which is driven by a 48-volt electric motor independent from engine speed. Dorobantu says it is significantly more controllable than pumpless EGR systems and enables EGR flow in operating regions where it wasn't possible to drive flow before and provides a more accurate EGR flow rate control for better combustion and emissions management.
"If you put more exhaust gas in the pistons, you're going to avoid making NOx," he says.
Noting that it's similar to an automotive supercharger, Dorobantu says the setup allows the turbo to run more efficiently, which enables a fuel economy improvement of about 5 percent. While the two are similar, a supercharger generates a high boost with average pressure ratios of 2.0 to 3.0 for many applications; an EGR pump uses a shorter rotor assembly and lower twist to produce flow just slightly above the intake pressure, or a pressure ratio of 1.05 to 1.50.
A hydraulic lash adjuster, designed to automatically adjust lash in commercial vehicle engines with Type 3 and Type 5 valvetrains, ensures precise valve seating, optimizing engine air flow and fuel management. Hydraulic lash adjusters are proven in the passenger car segment and automatically adjust for wear and thermal changes. Diesel engines still use mechanical lash adjusters that require periodic maintenance.
"Since the [hydraulic lash] is constant through the life of the engine, it allows for uniform combustion and eliminates a source of noise," Dorobantu says.
Eaton is also developing developing a mild hybrid electrically regenerative accessory drive. Its 48 volt motor charges the truck's batteries, can run the HVAC and would replace the alternator.
"48 volt is happening because of the increased electrical loads," Dorobantu says. "We've reached the limits of what can be achieved by 12 volt. We know that all the OEMs are considering some version of a 48 volt system."