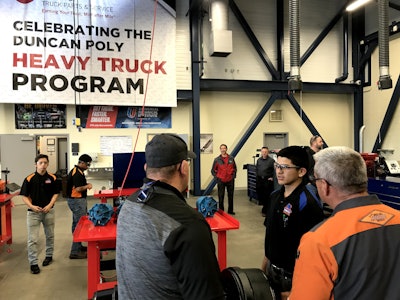 The crowned jewel of a decade-long process to bring elite technical education to California was unveiled last week with the opening of a diesel and heavy truck career technical education (CTE) pathway at Duncan Polytechnical Career Pathways High School in Fresno, Calif.
Developed in partnership with the Fresno Unified School District, the Fresno Chamber of Commerce and the greater trucking industry of central California, Duncan Poly's new program comes complete with a state-of-the-art training facility and a curriculum to match. For those in the school district, community and trucking industry who have spent the last several years tirelessly turning their dream into a reality, the Duncan Poly diesel and heavy truck program is not just another vocational pathway available to the students of Fresno.
It's an example of what can be done when education and industry come together. Of how vision and determination can transform a community.
It's also a blueprint.
If the trucking industry is ever going to legitimately solve its technician shortage — to address its root cause, not its downstream symptoms — then the efforts of the men and women of Fresno shall not be overlooked. The new Duncan Poly diesel tech program (and the other new and refurbished programs in the communities surrounding it) is the future of technical education.
"Fourteen months ago, we stood right here on this spot and you will recall it was a grassy field. Today a once-in-a-lifetime opportunity has arisen. A facility that is absolutely better than anything we ever could have imagined," said Fresno Unified School District Superintendent Bob Nelson. "This is about every high school kid having a stellar, an unbelievable high school experience. And this is what our kids are going to receive."
Added Duncan Poly Principal Jeremy Ward, "What we do here is nothing short of the very best version of education. Our students are given opportunities in both academic learning and training that can take them to any college or four-year university, but also are combined with hands-on, skill-oriented training that … give them options and opportunities."
Even before last Thursday's ribbon cutting celebration, Fresno's Duncan Polytechnical Career Pathways High School stood out in the sphere of high school vocational education. Founded in 1985, the school has served the entirety of the Fresno Unified School District for more than three decades, offering a multitude of career pathways, including agriculture (the region's most popular industry), healthcare and public services. Though there is no aptitude test required for admission to the school — students interested in the school's curriculum are chosen through a district lottery — Duncan Poly does require students to meet GPA, attendance and discipline requirements to remain enrolled in their CTE pathway of choice.
Thursday's open house saw the introduction of not just a new diesel and heavy truck program, but also automotive, welding, construction and manufacturing programs. The diesel and heavy truck program is led by Eric Rubio, an Air Force veteran with both technician and training experience. At Thursday's event, Rubio admitted how excited he was to return to teaching after a stint working for a municipality.
"I realized I really had a passion for teaching and when I saw this opportunity to teach at the high school level and really build out a program, I was ready for it," he said.
Rubio and his students alike say his program is focused, challenging and rewarding and fits perfectly within the Duncan Poly operational structure. Due to its unique position as a district magnet school, Rubio said Duncan Poly freshmen undergo a course load not unlike what is seen in conventional high schools, with courses such as math, science and language composition, before choosing a preferred CTE path before entering their sophomore year. Students choosing the diesel pathway are familiarized to the career through an Introductory to Diesel and Heavy Truck classroom-exclusive course before entering the workshop for the first time as juniors.
From there, the students continue taking all conventional courses required to earn their degree while adding two hours of hands-on shop instruction per day as juniors and three hours as seniors. Rubio added seniors also have the opportunity to participate in apprenticeship programs through local service providers. He said this year's inaugural seven-member senior class will graduate with more than 900 hours of hands-on instruction and earns ASE accreditation for 740 hours. Other ASE and OEM-developed stackable certificates are available, too, ensuring any student exiting the Duncan Poly program who wants to step directly into the workforce is prepared to do so without delay.
"I think a majority of these kids didn't know what they were going to do after high school. But now that they have, and they've found they have a passion about it, they are really excited and ready to be challenged," Rubio said.
It's that preparation that makes Rubio and everyone else associated with the new CTE pathway so excited. Thanks to the agri-based economy in and surrounding Fresno, the community has always been a hotbed for trucking and commercial transportation. And with the addition of this new pathway, the community finally has a recruiting ground to rely on. Education and industry have come together for the right reasons, and it is the students and families of Fresno that will benefit.
"We are here today to celebrate not only the enhanced opportunities these facilities will provide to the current and future students of Duncan Polytechnical High School, but also that will come through the strengthened connection to our local business partners," says Ward. "In combining valuable training with great employment opportunities for our students after high school, we believe these opportunities will empower our students and their families in the community for years to come."