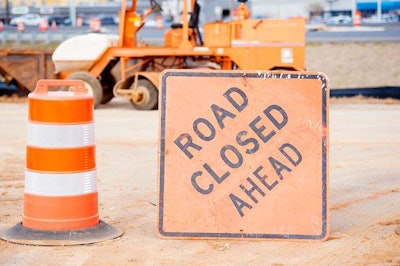 If there's one thing lawmakers on both sides of the aisle can agree on in Washington's otherwise poisonous political climate, it's the need to improve the nation's aging infrastructure. The bipartisan issue was considered low-hanging fruit and an easy win during President Trump's first year in office.
More than two years later, however, legislators still haven't managed to move the ball any closer to the goal line, and America's roads and bridges continue to show their age, propped up by Highway Trust Fund dollars that haven't been adjusted in more than 25 years and which could be insolvent by 2021. According to the World Economic Forum, U.S. overall infrastructure now ranks 9th in the world, and the quality of its roads is 11th.
"There are roads in Syria that are better-paved than the George Washington Parkway," said Chris Spear, American Trucking Associations' president and chief executive officer, expressing his frustrations during an address at ATA's Technology & Maintenance Council 2019 Annual Meeting in Atlanta last month, highlighting a road he regularly travels in the D.C. area as an example of why legislation is so important. "The policy of the National Park Service, a federal agency, is to lower the speed limit so people driving on the parkway have more time to avoid the potholes. That's the solution? … That has to be the dumbest policy I've ever heard."
But Spear is optimistic on bipartisan legislation expected to take shape in the next four to eight weeks that could generate a bill in the House in June and the Senate by July.
"This could be historic, and if properly funded with real money, we could see new efficiencies, the elimination of bottlenecks and congestion where we lose $74.5 billion per year sitting in traffic, 425,000 drivers sitting idle for an entire year," said Spear. "The damage our equipment endures simply because of our infrastructure is something you are all too familiar with. Good infrastructure is an investment in our nation's future."
In its 2020 Budget Fact Sheet released last month, the White House called for "at least $1 trillion" in infrastructure funding to replace the Fixing America's Surface Transportation Act, a 2015 stop-gap measure to keep infrastructure improvement projects afloat that expires in 2020.
"We must provide our state, local and private partners – who build, own and operate the vast majority of the nation's surface transportation infrastructure – the long-term funding certainty they need to effectively plan and deliver projects," the administration said. "Such reauthorization must, at a minimum, address the long-term solvency of the Highway Trust Fund in a fiscally responsible manner, focus on nationally and regionally significant projects, support emerging technologies and innovation, encourage the revenue mechanisms of the future and promote more efficient and effective permitting."
The next couple months could indeed be significant to seeing major infrastructure funding happen in Trump's first term. If legislation doesn't pass soon, the issue on how to fund the White House's $1 trillion-plus request risks becoming a political football in the next election cycle.
The trucking industry has stepped up to the plate, and ATA's Build America Fund proposal – that it estimates would generate $340 billion over 10 years – and calls for similar fuel tax increases have broad industry support. Less-appetizing options such as public-private partnerships and tolling also remain on the table.
The clock continues to tick on the nation's crumbling infrastructure. If legislators miss this new window of opportunity for major infrastructure funding legislation, and if the rancor that ensued over the recent border wall stalemate and subsequent government shutdown is any indication of how the current crop of lawmakers will act on future big-ticket budget items, it could again be years before the issue finally is addressed.