Kenneth Calhoun, fleet optimization manager at Altec Service Group, was named American Trucking Associations' Technology & Maintenance Council general chairman and treasurer for 2019-2020 during the organization's Annual Meeting in Atlanta Monday. He succeeds Jeff Harris, vice president of maintenance at USA Truck Inc.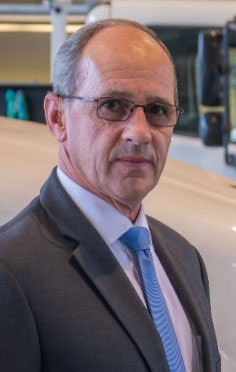 Calhoun, of Carlisle, Ark., most recently served as the Council's vice chairman and chairman of meetings.
"Being recognized like this by my peers in TMC is a tremendous honor, one I am humbled to receive," Calhoun says.
TMC Executive Director Robert Braswell says Calhoun "a model TMC member and an example of the type of professional standard our council strives to set."
"His passion for finding better ways to analyze maintenance data and develop our next generation workforce is well known and a great asset to the Council," he adds.
Others serving as TMC officers for 2019-2020 include:
• Vice Chairman and Chairman of Meetings: Stacy Earnhardt, director of asset management and specialized operations, Best Logistics Group
• Chairman of Study Groups: Scott Bartlein, fleet maintenance manager of Barry Fleet Services LLC
• Chairman of Membership and Publicity: John Adami, principal, NW Heavy Duty Sales
• Chairman of Associates: J. David Walters, manager, warranty & field service, Alcoa Wheel & Transportation Products
• Immediate Past Chairman Jeff Harris, vice president of maintenance at USA Truck Inc.
Directors-at-large include Jim Boyd, Southeastern Freight Lines; Todd Cotier, Hartt Transportation Inc.; David Foster, Premier Transportation; Jill Gingrich, WheelTime Network LLC; Winston Minchew, Old Dominion Freight Line Inc.; Randy Obermeyer, Batesville Logistics; Peter Savage, Clarke Power Services Inc., and Randy Tumbarello, Genox Transportation Inc.
Also honored Monday night were TMC's newest crop of Silver Spark Plug recipients, the group's highest honor.
They are Winston Minchew, Old Dominion Freight Lines; Dave Dettman, QTC Transportation Holdings; Homer Hogg, Travel Centers of America; Joe Long, Old World Industries and Larry Rambeaux, Purkeys.