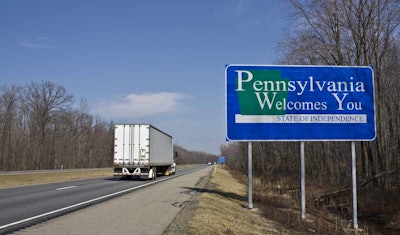 A federal judge on Wednesday, April 3, dismissed a lawsuit brought by the Owner-Operator Independent Drivers Association challenging the Pennsylvania Turnpike's "excessive toll increases" and what the group sees as a misappropriation of toll revenue.
Judge Yvette Kane of a U.S. District in the Middle Pennsylvania District granted the motions of the Pennsylvania Turnpike Commission, Gov. Tom Wolf and Pennsylvania Secretary of Transportation Leslie Richards to dismiss the case.
OOIDA said in a statement Thursday it will appeal the ruling.
"This lawsuit is far from over," said OOIDA President Todd Spencer. "And win or lose on appeal, the turnpike's debt crisis and the Commonwealth's transportation emergency aren't going away either. This is a crisis created by the legislature's decisions, not our lawsuit."
In the judge's opinion, she acknowledged that OOIDA's complaint "credibly alleges that Pennsylvania's policy decisions related to transportation have resulted in a statutory scheme that disproportionately burdens Turnpike travelers with the costs of a state-wide transportation system that is of no direct benefit to them."
"It's pretty clear she understands the situation," Spencer said. "But she also stated quite clearly that no definitive controlling precedent supports either side."
In its lawsuit, OOIDA said the Turnpike Commission's toll hikes "place an undue burden on interstate commerce while improperly diverting toll revenue to other projects unrelated to the turnpike."
Tolls have increased on the turnpike for 11 consecutive years, and PTC Chairman Sean Logan in 2015 said the annual 3-to-6 percent increases are expected to continue through 2044.