CCJ's Indicators rounds up the latest reports on trucking business indicators on rates, freight, equipment, the economy and more.
Trucking employment sagged in March: Employment in the for-hire trucking industry dipped in March, according to the Department of Labor's monthly Employment Situation Report. March's 1,200-job decline was the first month-to-month drop since April 2018 and only the second in the past 19 months.
Employment in the for-hire trucking industry totaled 1.5149 million in March, according to the DOL. That's a gain of 28,500 jobs from the same month last year. The U.S. economy as a whole added 196,000 jobs, and the unemployment rate was 3.8 percent.
The transportation and warehousing sector, the umbrella sector for truck transportation, added 7,300 jobs in the month. Among major freight-producing sectors, the construction industry gained 16,000 jobs in the March, while the manufacturing sector lost 6,000 jobs.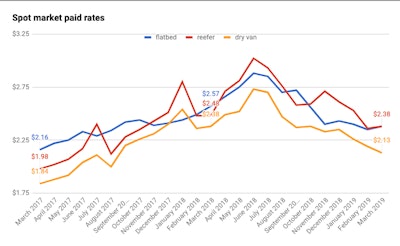 Spot market rates flat in March: Per-mile rates on the spot market were a mixed bag in March, as reefer and flatbed ticked up slightly from February averages and dry van rates slipped, according to data from Truckstop.com All three segments were well below March 2018 rate averages.
Per seasonal trends, March is typically the last month of a three-month rates slowdown before a run-up from April to June.
Flatbed rates in March climbed three cents a mile from February to $2.38, according to Truckstop.com's data. That's 19 cents lower than March 2018, but 22 cents higher than March 2017. Flatbed rates most recent peak was last June's $2.88 a mile.
Reefer rates also averaged $2.38 a mile in March, a two-cent climb from February 2018 but a 10-cent decline from March 2018. However, reefer rate were 40 cents a mile higher than March of 2017.
Lastly, dry van rates slipped 6 cents in March to $2.13 a mile. The segment's rate average was down 25 cents from last March, but up 29 cents from March 2017.